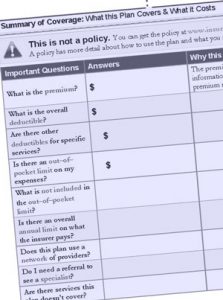 In August, we celebrated the imminent implementation of a health reform provision that was expected to require "new, improved health plan descriptions from insurance companies." Last week (on February 9), the federal government issued a final version of a simplified Summary of Benefits and Coverage, which will be made available to health insurance consumers starting in September.
Consumer advocates were generally pleased with the final summary, which will be made available online along with other marketing materials health insurers provide about their offerings. The new summary of benefits was mandated in the federal health reform law to help consumers make sense of complicated insurance plans and compare them with one another when shopping for coverage.
Along with basic information about the plan's premium, co-pays and deductibles, the eight-page document must include two examples of how the plan would cover specific situations – diabetes care and pregnancy.
In announcing the final rule, Health and Human Services Secretary Kathleen Sebelius said the simplified summary will give health plan buyers "a new edge in deciding which plan will best suit their needs and those of their families or employees."
---
Jan Greene has been reporting about the health care system for nearly 20 years. Her work has appeared in the Los Angeles Times, Health magazine, OnHealth.com and a variety of trade publications for doctors and health care organizations. In previous articles for the Health Insurance Resource Center, Greene has written about discontinued funding of state consumer assistance programs, the self-employed health insurance deduction, preventive services for women, free preventive services for seniors in Medicare and health insurance for elderly new immigrants.