How high is Medicare enrollment in Kansas?
562,390 Kansas residents were enrolled in Medicare as of June 2022, amounting to about 19% of the state's population — very similar to the share of the total United States population enrolled in Medicare.
More than 88% of Medicare beneficiaries in Kansas are eligible due to their age (ie, being at least 65), while nearly 12% are under 65 and eligible for Medicare due to a disability that lasts at least 24 months (people with ALS or end-stage renal disease do not have to wait 24 months for Medicare eligibility). This is very similar to the nationwide distribution of 65+ versus under-65 Medicare beneficiaries.

Medicare Advantage in Kansas
Original Medicare is available throughout the United States. And in most parts of the country, Medicare Advantage plans are available as an alternative, for people who prefer private health insurance. Medicare Advantage plans are available in all 105 counties in Kansas as of 2022.
16 percent of Kansas Medicare beneficiaries selected private Medicare Advantage plans as of 2018, which was much lower than the 34% of all Medicare beneficiaries nationwide who had Medicare Advantage enrollment at that point. The remaining 84 percent of the state's Medicare beneficiaries had opted instead for coverage under Original Medicare.
Total Medicare coverage enrollment has been growing nationwide, but Medicare Advantage enrollment has been growing even faster. As of mid-2022, 29% of Medicare beneficiaries in Kansas (161,681 people) were enrolled in private plans obtained through Medicare Advantage insurers (this does not count people with Original Medicare who supplement their coverage with private Medigap or Medicare Part D coverage). For reference, private Medicare enrollment had climbed to 46% nationwide by that point.
Medicare Advantage offers all of the benefits of Original Medicare (hospital inpatient care plus outpatient services), plus additional benefits like a cap on out-of-pocket costs, and in most cases, integrated Part D prescription drug coverage (the cap on out-of-pocket costs does not apply to the Part D coverage, however).
Many Medicare Advantage plans also provide additional benefits and programs, such as dental and vision coverage, a 24-hour nurse hotline, gym memberships, and even assistance with things like transportation and in-home safety. And many Advantage plans have no monthly premiums other than the cost of Medicare Part B. But there are tradeoffs and limitations: Medicare Advantage plans have more limited networks than Original Medicare, and total out-of-pocket costs under an Advantage plan are typically higher than they would be with Original Medicare combined with Medigap and a stand-alone Part D plan.
Depending on the county in which they live, residents in Kansas can select from between five and 54 Medicare Advantage plans for 2023.
During the annual Medicare election period each fall (October 15 to December 7), Medicare beneficiaries can switch between Medicare Advantage and Original Medicare, and can also make changes to their Part D coverage (but in most cases, there is not an opportunity to make a guarantee-issue change to Medigap coverage). There is also a Medicare Advantage open enrollment period (January 1 to March 31) during which people who are already enrolled in Medicare Advantage plans can switch to a different Medicare Advantage plan or drop their Medicare Advantage plan and enroll in Original Medicare instead.
Medigap in Kansas
Medigap plans are used to supplement Original Medicare, covering some or all of the out-of-pocket costs (for coinsurance and deductibles) that people would otherwise incur if they only had Original Medicare on its own. More than half of all Medicare beneficiaries have supplemental healthcare coverage from an employer's plan or Medicaid. But optional private Medigap plans are available to Original Medicare beneficiaries who don't have supplemental coverage from another source.
In Kansas, as of 2020, there were 253,269 people enrolled in Medigap plans. That amounted to about 45% of the state's Medicare population (Medicare Advantage enrollment is lower than the national average in Kansas and Original Medicare enrollment is higher; this results in a higher-than-average percentage of the Medicare population enrolled in Medigap plans, which can only be used to supplement Original Medicare coverage).
The Kansas Insurance Department publishes a Medigap buyer's guide, available here. There are 57 insurers offering Medigap plans in Kansas. Almost all of them use attained-age rating for setting monthly premiums, although a few use issue-age rating (here's how they both work).
Medigap plans are standardized under federal rules, and people are granted a six-month window, when they turn 65 and enroll in Original Medicare, during which coverage is guaranteed issue for Medigap plans. Federal rules do not, however, guarantee access to a Medigap plan if you're under 65 and eligible for Medicare as a result of a disability.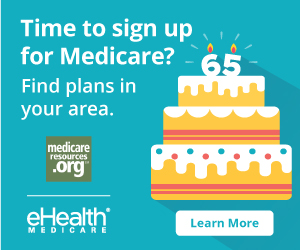 But Kansas is among the majority of the states with rules to ensure at least some access to Medigap plans for enrollees under the age of 65. And the consumer protections in Kanas are among the nation's strongest. In Kansas, all Medicare beneficiaries — including those who gain eligibility due to a disability and those who become eligible when they turn 65 — have the same guaranteed issue access to Medigap coverage (see page 4 of the Kansas Medigap buyer's guide).
Starting when a person is enrolled in Medicare Part B (regardless of their age), they have a six-month window during which coverage is guaranteed issue for all available Medigap plans. As long as the person enrolls during their six-month open enrollment window, insurers are required to charge younger, disabled beneficiaries the same premiums that apply to a 65-year-old. This is a stronger consumer protection than most states have; in the majority of the states where Medigap plans are guaranteed-issue for people under age 65, the insurers are allowed to charge higher prices for that population.
As is the case in every state, Kansas residents who are enrolled in Medicare prior to age 65 still have a guaranteed-issue Medigap open enrollment period when they turn 65, regardless of whether they already had Medigap coverage prior to turning 65. But since Kansas does not allow Medigap insurers to charge higher rates for younger enrollees, this is not as important as it is in other states where disabled beneficiaries pay much higher premiums and can then switch to a lower-cost plan when they turn 65.

Medicare Part D in Kansas
Original Medicare does not cover outpatient prescription drugs. But Medicare beneficiaries can get prescription coverage through Medicaid or an employer-sponsored plan (offered by a current or former employer). For people who don't have access to either of those, Medicare Part D is available to provide prescription coverage to Medicare beneficiaries. Part D coverage can be obtained as a stand-alone plan or integrated with a Medicare Advantage plan (about nine out of ten Medicare Advantage plans provide Part D coverage for prescription drugs).
As of mid-2022, there were 280,129 Kansas Medicare beneficiaries with coverage under stand-alone Part D prescription drug plans. Another 146,748 Kansas Medicare beneficiaries had Part D coverage integrated with a Medicare Advantage plan at that point. Although overall Medicare enrollment in Kansas has been increasing, Medicare Advantage enrollment has been increasing faster. Between mid-2020 and mid-2022, total Medicare Part D enrollment in the state grew by more than 25,000 people. But enrollment in stand-alone Medicare Part D plans in Kansas decreased by about 17,000 people, whereas enrollment in Part D as part of an Advantage plan increased by more than 43,000 people.
For 2023 coverage, there are 23 stand-alone Medicare Part D plans available in Kansas, with monthly premiums ranging from about $3 to $113.
Medicare Part D enrollment is available during the annual open enrollment period each fall, from October 15 to December 7. You can change your plan multiple times during that window; the last plan change you make will take effect January 1 of the coming year.
How does Medicaid provide financial assistance to Medicare beneficiaries in Kansas?
Many Medicare beneficiaries receive financial assistance through Medicaid with the cost of Medicare premiums, prescription drug expenses, and services not covered by Medicare – such as long-term care.
Our guide to financial assistance for Medicare beneficiaries in Kansas includes overviews of these benefits, including Extra Help, long-term care coverage, and eligibility guidelines.
Medicare in Kansas: Resources and information for Medicare beneficiaries and their caregivers
Need help with your Medicare application in Kansas? Got questions about Medicare eligibility in Kansas? You can contact SHICK — Senior Health Insurance Counseling for Kansas — with questions related to Medicare in Kansas.
The Kansas Insurance Department's website provides a comprehensive Medigap resource for people filing for Medicare benefits in Kansas and wishing to supplement the coverage with a Medigap plan. The page includes a general information guide to Medigap plans as well as a rate comparison tool.
Medicare.gov, maintained by CMS (the Centers for Medicare and Medicaid Services) provides information about every aspect of Medicare, and includes a healthcare provider finder tool as well as a plan finder tool that can help you determine which private insurers (Medigap, Part D, and Medicare Advantage) offer coverage in your area, and how much the monthly premiums will be.
The Medicare Rights Center provides Medicare-related assistance throughout the United States. They maintain a website and a call center where consumers can get answers to a wide range of questions about Medicare.
---
Louise Norris is an individual health insurance broker who has been writing about health insurance and health reform since 2006. She has written dozens of opinions and educational pieces about the Affordable Care Act for healthinsurance.org. Her state health exchange updates are regularly cited by media who cover health reform and by other health insurance experts.