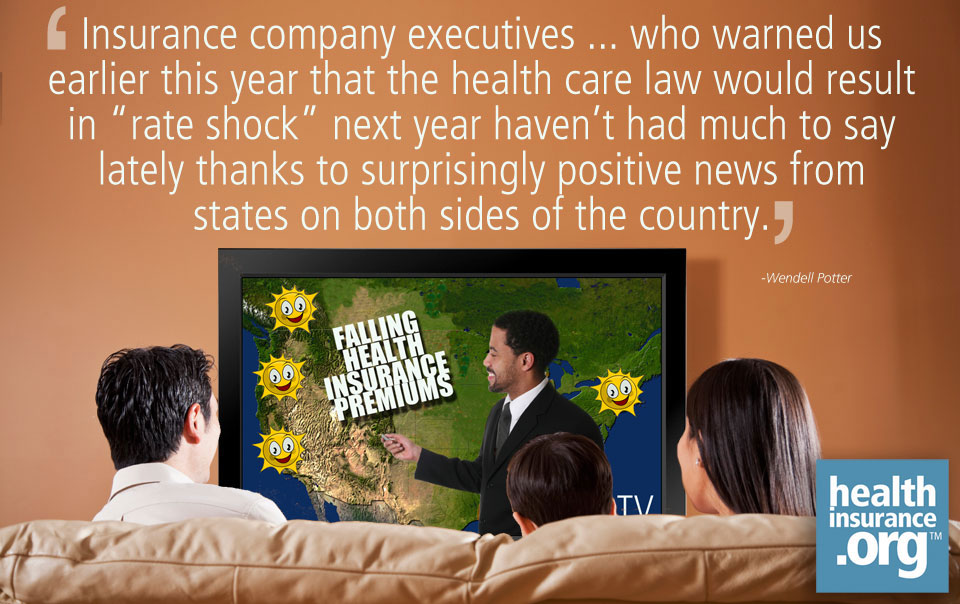 Insurance company executives and other critics of Obamacare who warned us earlier this year that the health care law would result in "rate shock" next year haven't had much to say lately thanks to surprisingly positive news from states on both sides of the country.
The most recent news came from California, the nation's biggest state by far. Officials of Covered California, the name of the state's online health insurance exchange that like all others must be up and running by October 1, announced last week that the proposed 2014 rates submitted by the 13 insurers they selected to sell policies in the exchange are considerably lower than many had expected.
The rates, which are still subject to review by state regulators, ranged from two percent above to 29 percent below the 2013 average premium for small employer plans in the state's biggest markets. What's more, in compliance with the federal reform law, many of the policies sold on the exchange will have more comprehensive benefits than what is available to individuals in the state today, and none of them will have annual or lifetime limits on what the insurers will pay out in claims.
Exchange officials said all the policies selected will include doctor visits, prescriptions, hospital stays as well as other benefits that will protect consumers "from the 'gimmicks and gotchas' of many insurance policies." And the most policyholders will have to spend out of their own pockets will be $6,350, which should reduce the number of people, including those with insurance, who file for bankruptcy every year because of medical bills.
Washington state residents got similar good news earlier this month. Insurers there had been warning of increases of up to 70 percent for individual plans sold on that state's exchange. But the rates they actually submitted for next year were comparable to what they are charging this year.
Officials said that for most adults who are now either uninsured or who are enrolled in an individual plan, the premiums and out-of-pocket costs would be about the same as plans being marketed today. Young adults might face higher premiums, but the state expects at least half of 18- to 24-year-olds will be eligible for subsidies made available by Obamacare. So what many of them actually pay for premiums next year will likely be less than what they're paying now.
There was no rate shock in Oregon either this month when insurers filed their preliminary rates for policies they plan to offer next year on the state's exchange, Cover Oregon, but there was clear evidence that the new competition made possible by the exchange will keep premiums in check. In fact, when the state insurance department published the insurers' proposed rates in a chart a few weeks ago, some of companies that had planned to charge the highest rates said that after seeing what other insurers were proposing that they would resubmit their plans with lower rates.
The west coast states followed a trend sent in Vermont earlier this spring. The Green Mountain State on April 1 became the first in the country to publish the premiums insurers plan to charge next year on that state's exchange, Vermont Health Connect.
Robin Lunge, director of health care reform for the Shumlin administration, also looked favorably upon the proposed premium prices.
"At first blush the rates are comparable to current insurance rates," she Robin Lunge, director of health care reform for Vermont Governor Peter Shumlin. "There has been a lot of speculation previously that rates in the exchange would be significantly higher, and we're not seeing that in the initial filing."
While consumer advocates noted that some Vermonters will likely have to pay more in out-of-pocket expenses than they currently do, the state said many lower-income individuals and families will pay less in premiums under the proposed state subsidy system.
The proposed rates in these first four states are consistent with what I told members of Congress we likely would be seeing, despite the "rate shock" propaganda campaign from some insurers who have been trying to get Congress to gut some of the consumer protections in Obamacare. "Rate shock is a crock," I said during a March Congressional hearing.
While the changes in premiums next year will vary widely from state to state, the news from the first four to report preliminary filings are encouraging. Residents of states that currently have the fewest consumer protections and that allow policies with the skimpiest benefits to be sold may face higher premiums next year, but they will be getting much more protection for their money.