Medicare enrollment in South Dakota
As of late 2022, 190,708 residents were enrolled in Medicare in South Dakota, amounting to about 21% of the state's population.
Most people become eligible for Medicare enrollment when they turn 65 years old, but Medicare eligibility is also triggered by a disability that lasts more than 24 months, or a diagnosis of ALS or end-stage renal disease (kidney failure). Nationwide, 12% of all Medicare beneficiaries are under the age of 65, but only about 9% of South Dakota Medicare beneficiaries are under the age of 65.
Medicare Advantage in South Dakota
Medicare beneficiaries can choose to receive their benefits directly from the federal government via Original Medicare or enroll in private Medicare Advantage plans (as long as Advantage plans are available in their area, which is the case in most of South Dakota).
Original Medicare includes Medicare Part A (hospital coverage) and Part B (medical/physician coverage). Medicare Advantage includes all of the benefits of Medicare Parts A and B (albeit with very different out-of-pocket costs), and Advantage plans typically provide additional benefits, such as integrated Medicare Part D prescription drug coverage and extras like dental and vision. But provider networks are limited with Medicare Advantage, and out-of-pocket costs (deductible, coinsurance, and copays) are often higher than they would be under Original Medicare plus a Medigap plan. There are pros and cons to either option, and no single solution that works for everyone.
Only 19% of Medicare beneficiaries in South Dakota had selected Medicare Advantage plans as of 2018, compared with an average of 34% nationwide (and notably, South Dakota's Medicare Advantage enrollment had dropped from 20% the year before, whereas the percentage of beneficiaries enrolled in Medicare Advantage plans had increased in most states).
As of November 2022, just 57,542 Medicare beneficiaries in South Dakota were enrolled in private Medicare plans (as opposed to Original Medicare; that figure does not include people who had private coverage to supplement Original Medicare). That's 30% of the state's Medicare population, and although most of them were enrolled in Medicare Advantage, there are some enrollees in South Dakota who have Medicare Cost plans.
For 2023 coverage, most South Dakota residents can select from among at least 10 Medicare Advantage plans, and up to 39 plans, depending on where they live. (There are no Advantage plans available in Oglala Lakota County for 2023.)
Medicare Advantage enrollment is available when a person is first eligible for Medicare, and also during Medicare's annual election period (October 15 to December 7 each year). This annual window gives Medicare beneficiaries the opportunity to switch between Medicare Advantage plans and Original Medicare (and add or drop a Medicare Part D prescription plan). Medicare Advantage enrollees also have the option to switch to a different Advantage plan or to Original Medicare during the Medicare Advantage open enrollment period, which runs from January 1 to March 31.

Medigap in South Dakota
More than half of Original Medicare beneficiaries receive supplemental coverage through an employer-sponsored plan or Medicaid. But for those who don't, Medigap plans (also known as Medicare supplement plans) are designed to pay some or all of the out-of-pocket costs (deductibles and coinsurance) that Medicare beneficiaries would otherwise have to pay themselves. Original Medicare does not limit out-of-pocket costs, so most enrollees maintain some form of supplemental coverage; Medigap plans are what's available for people who don't have access to an employer-sponsored plan (including retiree plans) or Medicaid.
Although Medigap plans are sold by private insurers, the plans are standardized under federal rules. There are ten different plan designs (differentiated by letters, A through N), and the benefits offered by a particular plan (Plan A, Plan F, etc.) are the same regardless of which insurer is selling the plan. So plan comparisons are much easier for Medigap policies than for other types of health insurance; consumers can base their decision on premiums and less tangible things like customer service, since the benefits themselves are uniform.
43 insurers are licensed to offer Medigap plans in South Dakota. According to an AHIP analysis, 74,695 people in the state had Medigap coverage as of 2020, in addition to their Original Medicare coverage (this was a small increase from 2019; in many states, the number of people with Medigap coverage has been declining slightly, as Medicare Advantage becomes more popular, but Original Medicare continues to cover about 70% of South Dakota Medicare benediciaries). Avera, which offers other types of health coverage in South Dakota and has an extensive provider network in the state, also offers Medicare SELECT Medigap plans.
Unlike other private Medicare coverage enrollment (Medicare Advantage plans and Medicare Part D plans), there is no annual open enrollment window for Medigap plans. Instead, federal rules provide a one-time six-month window when Medigap coverage is guaranteed-issue. This window starts when a person is at least 65 and enrolled in Medicare Part B (you must be enrolled in both Part A and Part B to buy a Medigap plan).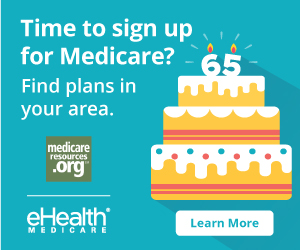 People who aren't yet 65 can enroll in Medicare if they're disabled and have been receiving disability benefits for at least two years, or if they have ALS or end-stage renal disease (12% of Medicare beneficiaries nationwide, and about 9% in South Dakota, are under age 65). Federal rules do not guarantee access to Medigap plans for people who are under 65, but the majority of the states have rules to ensure that disabled Medicare beneficiaries have at least some access to Medigap plans.
In South Dakota, Medicare beneficiaries under the age of 65 have the same Medigap open enrollment period as people who are gaining access to Medicare due to age. These enrollees have six months from the time they enroll in Medicare Part B to select a guaranteed-issue Medigap plan. For South Dakota Medigap plans that base rates on the age of the enrollee (which is nearly all of them), the premiums for people under age 65 are equal to the premiums for people who are 75, because state regulations prohibit Medigap insurers from charging enrollees under age 65 more than they charge enrollees who are 75 (see ARSD 20:06:13:84). This is a much more restrictive model than many other states use, as it keeps Medigap premium fairly low for people under age 65 (in many states, Medigap premiums for people under 65 are two to four times more expensive for those under 65, versus people who are 65; in South Dakota, the difference in price is less than 35% in most cases).
South Dakota has an extensive list of state statutes that apply to rate and form filing requirements for Medigap plans.
People who are enrolled in Medicare prior to age 65 will have another Medigap open enrollment period, when they turn 65, during which they can switch to a different Medigap plan and get the lower premiums that apply to people who are eligible for Medicare due to age, rather than disability.
Although the Affordable Care Act eliminated pre-existing condition exclusions in most of the private health insurance market, those regulations don't apply to Medigap plans. Medigap insurers can impose a pre-existing condition waiting period of up to six months, if you didn't have at least six months of continuous coverage prior to your enrollment. And if you apply for a Medigap plan after your initial enrollment window closes (assuming you aren't eligible for one of the limited guaranteed-issue rights), the insurer can look back at your medical history in determining whether to accept your application, and at what premium.
South Dakota Medicare Part D
Original Medicare does not cover outpatient prescription drugs. More than half of Original Medicare beneficiaries have supplemental coverage via an employer-sponsored plan (from a current or former employer or spouse's employer) or Medicaid, and these plans often include prescription coverage. But Medicare enrollees without drug coverage through Medicaid or an employer-sponsored plan need to obtain Medicare Part D prescription coverage. Part D coverage can be purchased as a stand-alone plan, or as part of a Medicare Advantage plan that includes Medicare Part D enrollment.
For 2023 coverage of prescription drugs in South Dakota, there are 24 stand-alone Medicare Part D plans for sale, with premiums that range from about $5 to $114/month.
As of late 2022, there were 113,778 Medicare beneficiaries in South Dakota who had coverage for prescription drugs under stand-alone Medicare Part D plans. Another 24,020 had Part D prescription coverage as part of their Medicare Advantage plans (ie, MA-PDs). Although the number of South Dakota beneficiaries with MA-PD coverage is growing, it's still a small segment of overall Part D coverage in the state. In many states, there are now more people with MA-PD coverage than with stand-alone Part D coverage, but that's not the case in South Dakota.
Medicare Part D enrollment follows the same schedule as Medicare Advantage: Beneficiaries can enroll in a Part D plan when they're first eligible for Medicare, and the annual enrollment period (October 15 to December 7) provides an opportunity to enroll or change plans, with coverage effective the following January.

How does Medicaid provide financial assistance to Medicare beneficiaries in South Dakota?
Many Medicare beneficiaries receive financial assistance through Medicaid with the cost of Medicare premiums and services Medicare doesn't cover – such as long-term care.
Our guide to financial assistance for Medicare enrollees in South Dakota includes overviews of these benefits, including Medicare Savings Programs, long-term care coverage, and eligibility guidelines for assistance.
Medicare resources for South Dakota residents
Got questions about filing for Medicare benefits in South Dakota? You can contact SHIINE, South Dakota's Senior Health Insurance Information and Insurance Education program, with questions related to Medicare eligibility in South Dakota, Medicare enrollment in South Dakota, or changing various aspects of your Medicare coverage after you're enrolled.
The South Dakota Department of Social Services has information about Medicare Savings Programs that are available to residents with limited income and assets. And this page provides a thorough overview of how South Dakota's Medicaid program provides assistance to Medicare beneficiaries with limited financial means.
The South Dakota Divison of Insurance licenses, regulates, and oversees the health insurance companies that offer coverage in the state (for Medicare beneficiaries, Medigap plans are regulated at the state level), as well as the brokers and agents who sell policies. Their office can provide information and address a variety of consumer inquiries and complaints about the entities they regulate.
The Medicare Rights Center is a nationwide service that can provide assistance and information to Medicare beneficiaries and their caregivers who have questions about Medicare eligibility, enrollment, or benefits.
---
Louise Norris is an individual health insurance broker who has been writing about health insurance and health reform since 2006. She has written dozens of opinions and educational pieces about the Affordable Care Act for healthinsurance.org. Her state health exchange updates are regularly cited by media who cover health reform and by other health insurance experts.