See your Maryland health insurance coverage options now.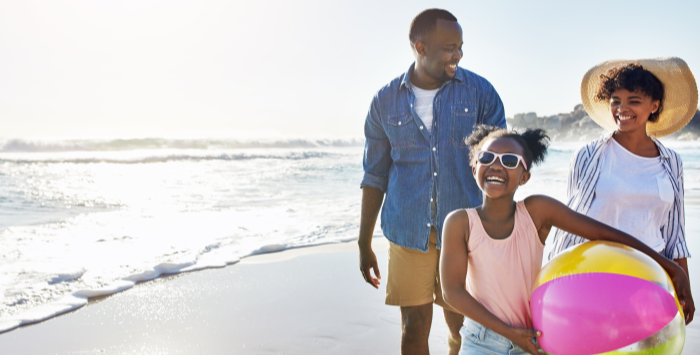 Find affordable individual and family, small-group, short-term, or dental plans through licensed agency partners.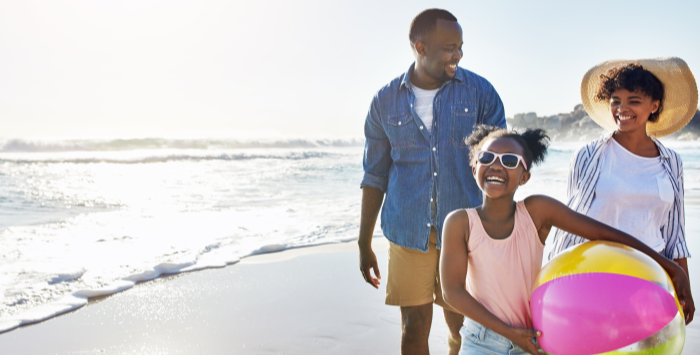 Maryland Health Insurance Consumer Guide
This guide is designed to help you understand the health coverage options and possible financial assistance available to you and your family in Maryland For many, an Affordable Care Act (ACA) Marketplace (exchange) plan, also known as Obamacare, may be an affordable option. In addition to federal subsidies, Maryland also offers state-funded subsidies for young adults ages 18-34, helping to make coverage even more affordable for this population.
Individual and family plans on the ACA Marketplace are available for:

Self-employed people

Early retirees needing coverage until Medicare

Workers at small businesses without health benefits
Maryland operates its own state-run exchange called Maryland Health Connection. The Maryland exchange follows an active purchaser model. This means the state negotiates with insurance companies to decide which plans will be available for people to buy.
Maryland established a reinsurance program in 2019, which has kept premiums lower than they would otherwise have been. Maryland also offers an easy enrollment program, which allows residents to connect with health coverage via their state tax return. Aetna Health is joining Maryland's individual market for 2024, increasing the number of coverage options that enrollees have.
Explore our other comprehensive guides to coverage in Maryland
Frequently asked questions about health insurance in Maryland
Frequently asked questions about health insurance in Maryland
Who can buy Marketplace health insurance?
To qualify for Marketplace coverage in Maryland, you must:3

Live in Maryland

Be a U.S. citizen, national, or lawfully present in the U.S.

Not be incarcerated

Not be enrolled in Medicare
Whether or not you qualify for financial assistance with your premium, deductible, or out-of-pocket costs depends on your income and how it compares with the cost of the second-lowest-cost Silver plan in your zip code. 
Additionally, to qualify for subsidies, you must: 
Not have access to affordable health coverage through an employer. If you think your employer-sponsored health plan is too expensive, use our

Employer Health Plan Affordability Calculator

to check if you might qualify for premium subsidies in the Marketplace. 

Not be eligible for Medicaid or CHIP in Maryland.
When can I enroll in an ACA-compliant plan in Maryland?
Maryland's open enrollment period for individual and family health plans runs from November 1 to January 15.4
Enroll by December 31 for coverage to start January 1.

Enroll between January 1 and January 15 for coverage to begin February 1.
Note that the deadline to get a January 1 effective date in Maryland is December 31. This is different than most states, where deadline is December 15.4
Outside of open enrollment, you generally need a qualifying life event, such as losing coverage, getting married, or permanently moving, to enroll or make changes. This is known as a special enrollment period (SEP).
Note that Maryland is one of several states where pregnancy is considered a qualifying life event, giving a person 90 days from the date of the pregnancy confirmation to enroll in a health plan.5
Some people can sign up without a qualifying life event. For example:
People who qualify for Medicaid, the Maryland Children's Health Program (MCHP), or MCHP Premium can enroll anytime.4
How do I enroll in a Marketplace plan in Maryland?
There are three ways to enroll in an ACA Marketplace plan in Maryland:4
Online:

Go to MarylandHealthConnection.gov to create an account and apply. 

Phone:

Contact the Call Center at 855-645-8572. Those who are deaf and hard of hearing use the Relay service. Help is available in over 200 languages. 

Talk to a broker: Get help from an authorized insurance broker through Broker Connect.7
Mobile app: Apply from your phone by downloading the mobile app, Enroll MHC.
How can I find affordable health insurance in Maryland?
You can find affordable individual and family health plans in Maryland through MarylandHealthConnection.gov, the state's ACA exchange.
More than seven out of ten eligible enrollees receive subsidies, saving about $382 monthly on their 2023 premiums.8 These subsidies are called Advance Premium Tax Credits (APTC). With subsidies, Maryland residents pay about $117 monthly on average in premiums.8
If your income is under 250% of the federal poverty level, you may qualify for cost-sharing reductions (CSR) to lower your deductibles and out-of-pocket costs.9
Thanks to a new state program, young adults aged 18 to 34 may qualify for additional help paying their monthly premiums. This assistance is in addition to the Advance Premium Tax Credit (APTC).10 The young adult subsidy program was initially slated to be available in 2022 and 2023, but legislation (HB814 and SB601) enacted in 2023 made it permanent.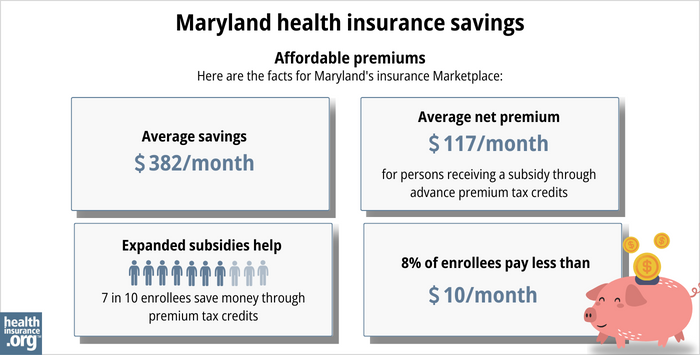 Although Maryland does not have plan standardization, the exchange does offer "value plans," which are plans that have lower out-of-pocket costs for certain frequently-used services.11
For Maryland residents who aren't eligible for premium subsidies or Medicaid, short-term health insurance is a lower-cost coverage option. In Maryland, two insurers offer short-term plans.
How many insurers offer Marketplace coverage in Maryland?
For 2024, the following insurance companies will provide coverage through the Maryland exchange:12
Aetna Health Inc. (new for 2024)

CareFirst BlueChoice

CareFirst of Maryland, Inc. (CareFirst Blue Cross BlueShield)

Group Hospitalization and Medical Services, Inc. (GHMSI) 

Kaiser Foundation Health Plan of the Mid-Atlantic States, Inc.

Optimum Choice, Inc.
Are Marketplace health insurance premiums increasing in Maryland?
The 2024 approved individual market rate increases in Maryland are as follows:13
Maryland's ACA Marketplace Plan 2024 Approved Rate Increases by Insurance Company

Issuer
Percent Change
Aetna Health, Inc.
new for 2024
CareFirst BlueChoice, Inc.
4.9%
CareFirst of Maryland, Inc. (CareFirst Blue Cross Blue Shield)
2.5% decrease
Group Hospitalization and Medical Services, Inc. (GHMSI)
2.5% decrease
Kaiser Foundation Health Plan of the Mid-Atlantic States, Inc.
8.3%
Optimum Choice, Inc.
1.2% decrease
Source: Maryland Insurance Administration14
Overall, the average rate change for 2024 amounts to a 4.7% increase, which is a little lower than the insurers initially requested.
Note that the average rate changes affect full-price premiums, and most enrollees don't pay the full amount. Around 77% of the people who signed up for private plans through Maryland Health Connection in 2023 received financial assistance with their costs through premium subsidies.8 These subsidy amounts are adjusted annually to match the cost of the second-lowest-cost Silver plan. 
Maryland established a reinsurance program in 2019, and federal approval was granted in 2023 to extend this program for another five years. The reinsurance program has kept Maryland's individual market premiums much lower than they would otherwise have been.15
If your premiums are increasing next year, you might want to consider other Maryland Health Connection plans that better fit your budget and offer the benefits you need. The entry to Aetna Health to Maryland's Marketplace will give consumers additional coverage options, but it's also important to understand how the entry of a new insurer can affect premium subsidies, depending on how the new plans are priced relative to existing plans.
Here's a look at how overall average premiums have changed each year in Maryland:
How many people are insured through Maryland's Marketplace?
More than 182,000 people enrolled in private plans through Maryland's Marketplace during the 2023 open enrollment period.8
This surge in enrollment was mainly due to the American Rescue Plan, which improved affordability starting in 2021. The Inflation Reduction Act extended these improvements until 2025, ensuring coverage remains more affordable in 2023 than before the ARP became law.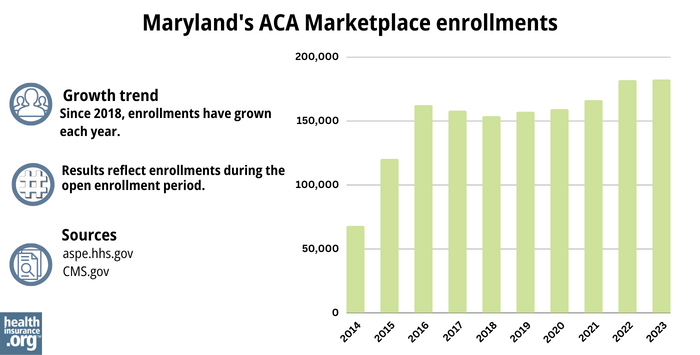 Source: 2014,25 2015,26 2016,27 2017,28 2018,29 2019,30 2020,31 2021,32 2022,33 20238
What health insurance resources are available to Maryland residents?
Maryland Health Connection
This is the state's official health insurance Marketplace, where residents can shop for and enroll in health coverage plans.
Maryland Department of Health
This department oversees various health-related programs in the state, including providing information and managing enrollment for Medicaid.
Maryland Health Education and Advocacy Unit
This unit offers education and support to help individuals understand and navigate their health insurance options, making informed decisions about their coverage.
Health Care Access Maryland
This organization ensures that Maryland residents can access quality healthcare services, assisting with enrollment, navigation, and resources.
Maryland Senior Health Insurance Program
Designed for older adults, this program offers valuable information and assistance related to Medicare.
---
Louise Norris is an individual health insurance broker who has been writing about health insurance and health reform since 2006. She has written dozens of opinions and educational pieces about the Affordable Care Act for healthinsurance.org. Her state health exchange updates are regularly cited by media who cover health reform and by other health insurance experts.
Footnotes