See your Michigan health insurance coverage options.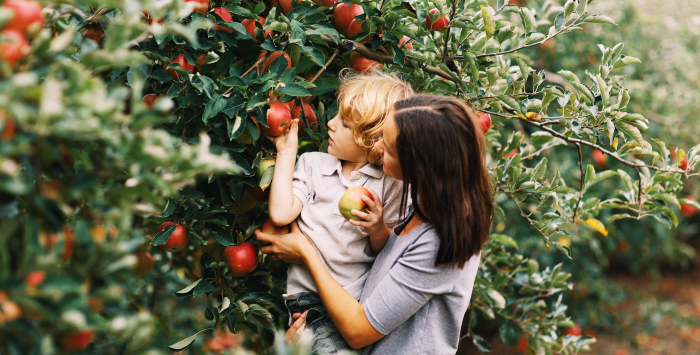 Find individual and family plans, small-group, short-term or Medicare plans through licensed agency partners.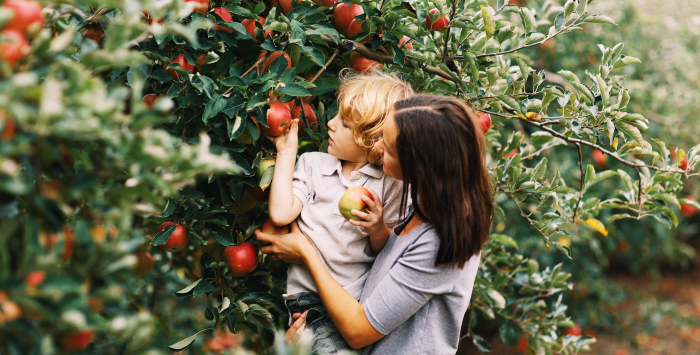 Michigan Health Insurance Consumer Guide
We created this guide to help you choose the right health insurance plan right for you and your family. An ACA Marketplace plan may be a good choice for many consumers, and we will guide you through the options below.
Michigan's ACA Marketplace plans – also known as Obamacare plans – are available on a website regulated by the federal government known as the Marketplace. The Marketplace provides access to health insurance products from private insurers. The federal government helps pay for insurance through an advance premium tax credit if you buy coverage from one of these exchanges.
Explore our other comprehensive guides to coverage in Michigan
Frequently asked questions about health insurance in Michigan
Frequently asked questions about health insurance in Michigan
Who can buy Marketplace health insurance?
You may be eligible to participate in the individual Marketplace if you meet these criteria:3
You must be a resident of Michigan and lawfully present in the U.S.
You must not have Medicare coverage.
You must not be incarcerated.
Although most people are thus eligible to enroll in a Marketplace plan, there are additional criteria in order to qualify for financial assistance in the Marketplace. In order to be eligible for subsidies:4
You must not have access to an affordable employer health plan. Use our employer health plan affordability calculator to see if you may be eligible for subsidies to offset the cost of a Marketplace plan.
You must not be eligible for Medicaid, CHIP, or premium-free Medicare Part A.
If you're married, you must file a joint tax return.
Subsidy eligibility is also based on how your income compares with the premium for the second-lowest-cost Silver plan in the Marketplace (for premium subsidies) and whether your income is more or less than 250% of the federal poverty level (for cost-sharing reductions).
When can I enroll in an ACA-compliant plan in Michigan?
In Michigan, the open enrollment period for individual and family insurance runs from November 1 to January 15.5 (Note that for 2024 coverage, the deadline has been extended to January 16, 2024, due to the federal holiday that falls on January 15.)6
Enrollments completed by December 15 will take effect on January 1, while enrollments completed between December 16 and January 15 (January 16, for 2024 coverage) will take effect on February 1. Outside of open enrollment, you can enroll in new coverage or make changes to your existing coverage during a special enrollment period if you've experienced a qualifying life event. Learn more about qualifying events.
Where do I enroll in a Marketplace plan in Michigan?
Michigan residents use HealthCare.gov to enroll in individual and family health plans. You can also sign up with a licensed agent/broker or a Navigator. There is also an option to enroll through an independent website authorized by the Centers for Medicare & Medicaid Services.7
How can I find affordable health insurance in Michigan?
In Michigan, consumers may find affordable health insurance by enrolling through the ACA Marketplace (HealthCare.gov). Nearly nine out of ten eligible enrollees save money on premium payments amounting to an average savings of $412/month.8 Subsidy-eligible enrollees pay an average net premium of $121/month after subsidies.9
The Affordable Care Act provides income-based advance premium tax credits (subsidies) that offset your premium payments to help keep your expenses down. People with household incomes below 250%of the federal poverty level also qualify for cost-sharing reductions (CSR) that may reduce your deductibles and out-of-pocket expenses when you buy a Silver plan. Between the premium subsidies and cost-sharing reductions, you may find that an ACA plan is the cheapest health insurance option for you.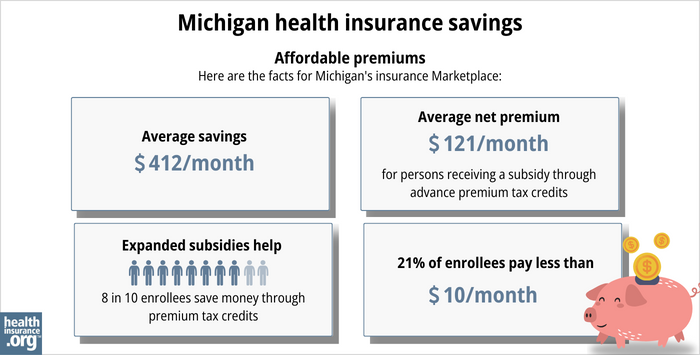 Source: CMS.gov9
How many insurers offer Marketplace coverage in Michigan?
For 2024 coverage, there are nine insurers that offer exchange plans in Michigan.10
There were ten Marketplace insurers in Michigan in 2023, but one of them, U.S. Health & Life/Ascension Personalized Care, opted to withdraw from the market at the end of 2024. According to U.S. Health & Life's discontinuation notice, there are more than 5,000 enrollees in five Michigan counties whose coverage will terminate at the end of 2023.11 These individuals can select replacement 2024 coverage from another insurer during open enrollment.
Are Marketplace health insurance premiums increasing in Michigan?
For 2024, the insurers offering coverage in Michigan (including two that only offer coverage outside the exchange) have implemented an overall average rate increase of 5.3%.10 The increase you see on your premium may also be impacted by increases in your age and changes that impact the amount of subsidy you receive.
So it's important to look at your renewal rates. If your current plan's premium is increasing, you may be able to find a less expensive plan by reviewing plans available in the Marketplace with similar benefits.
The following table highlights the statewide rate changes for each insurer. Rate changes can vary by region within a state.
Michigan's ACA Marketplace Plan 2024 Approved Rate Increases by Insurance Company

Issuer
Percent Increase
Blue Care Network of Michigan
5.4%
Blue Cross Blue Shield of Michigan Mutual Insurance Company
4%
Oscar Insurance Company
3.9%
McLaren Health Plan Community
16.2%
Meridian Health Plan of Michigan, Inc.
5.2%
Molina Healthcare of Michigan, Inc.
5.8%
Physicians Health Plan
5.4%
Priority Health
5.2%
UnitedHealthcare Community Plan, Inc.
6.4%
US Health & Life Insurance Company
withdrawn
Source: Michigan Department of Insurance and Financial Services.10
Note that the average premium changes described above are for full-price (unsubsidized) premiums. However, most Marketplace enrollees qualify for subsidies, so they do not pay full price.8 For these enrollees, net premium changes depend on changes in their own plan's price as well as changes in their subsidy amount from one year to the next.
For perspective, here's an overview of how average premiums have changed in Michigan's individual market over the years:
How many people are insured through Michigan's Marketplace?
More than 322,000 people enrolled in private health coverage through the Michigan exchange during the open enrollment period for 2023 coverage.9 This was the highest enrollment through Michigan's exchange since 2017.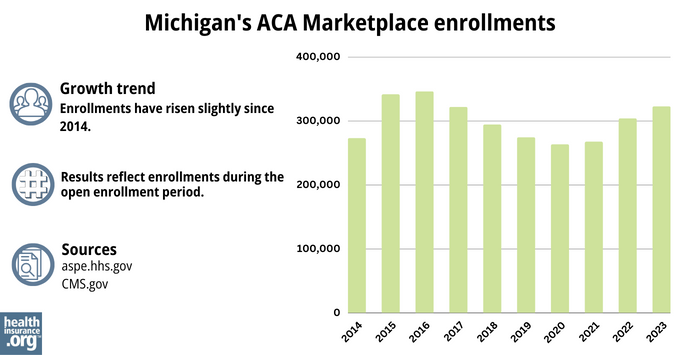 Source: 2014,21 2015,22 2016,23 2017,24 2018,25 2019,26 2020,27 2021,28 2022,29 20239
What health insurance resources are available to Michigan residents?
---
Louise Norris is an individual health insurance broker who has been writing about health insurance and health reform since 2006. She has written dozens of opinions and educational pieces about the Affordable Care Act for healthinsurance.org. Her state health exchange updates are regularly cited by media who cover health reform and by other health insurance experts.
Footnotes