See your Oklahoma health insurance coverage options.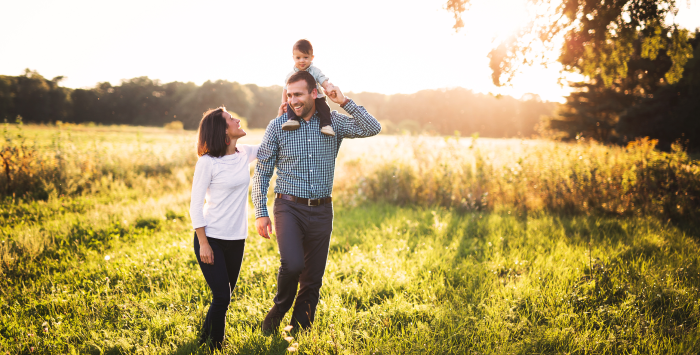 Find individual and family plans, small-group, short-term or Medicare plans through licensed agency partners.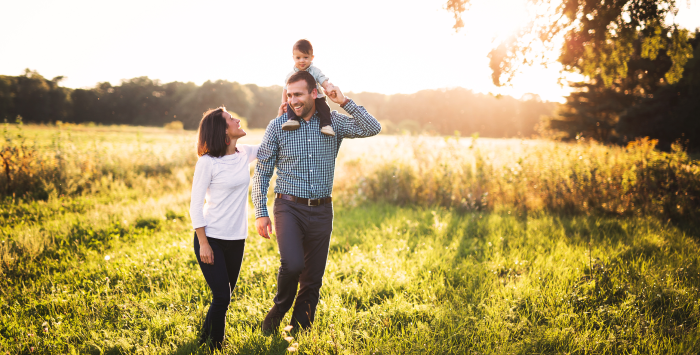 Oklahoma Health Insurance Consumer Guide
This guide was developed to help you understand the Oklahoma health insurance options available for you and your family. The options found in Oklahoma's ACA Marketplace may be a good choice for many consumers, and we will guide you through them below.
Oklahoma uses the federally run health insurance exchange (Marketplace), Healthcare.gov, for residents to purchase its ACA Marketplace plans. The Marketplace provides access to health insurance plans from seven private insurers for 2024,1 although insurer participation varies significantly from one area to another.2
Depending on your income and other circumstances, you may also get help to lower your monthly insurance premium (the amount you pay to enroll in the coverage), and possibly your out-of-pocket expenses, when you enroll in a policy through the Oklahoma Health Insurance Marketplace.
Explore our other comprehensive guides to coverage in Oklahoma
Frequently asked questions about health insurance in Oklahoma
Frequently asked questions about health insurance in Oklahoma
Who can buy Marketplace health insurance?
To be able to enroll in a health plan through the Oklahoma Marketplace, you must: 6
Live in Oklahoma

Be lawfully present in the United States

Not be incarcerated

Not be enrolled in Medicare
Eligibility for financial assistance (premium subsidies and cost-sharing reductions) depends on your income. In addition, to qualify for financial assistance with your Marketplace plan you must:
Not have access to affordable health coverage offered by an employer. If your employer offers coverage but you feel it's too expensive, you can use our

Employer Health Plan Affordability Calculator

to see if you might qualify for

premium subsidies

in the Marketplace. 

Not be eligible for Medicaid or CHIP.

Not be eligible for premium-free Medicare Part A.7
When can I enroll in an ACA-compliant plan in Oklahoma?
In Oklahoma, open enrollment for individual and family health coverage runs from November 1 to January 15.8 
Your coverage will start on January 1 if you enroll before December 15. But if you apply between December 16 and January 15, your coverage will begin on February 1.8 
Outside of open enrollment, a special enrollment period (typically linked to a specific qualifying life event) is necessary to enroll or make changes to your coverage.
If you have questions about open enrollment, you can learn more in our comprehensive guide to open enrollment. We also have a comprehensive guide to special enrollment periods.
How do I enroll in an Oklahoma Marketplace plan?
To enroll in an ACA Marketplace plan in Oklahoma, you can: 
Visit

Healthcare.gov

to access Oklahoma's Health Insurance Marketplace. Here you will find an online platform to shop, compare, and choose the best health plans. 

Purchase individual and family health coverage with the help of an insurance agent or broker, a Navigator or certified application counselor, or an approved enhanced direct enrollment entity.9
You can reach HealthCare.gov's call center by dialing 1-800-318-2596 (TTY: 1-855-889-4325). The call center is available 24 hours a day, seven days a week, except holidays.
How can I find affordable health insurance in Oklahoma?
Oklahoma uses the federally run exchange for individual market plans, so residents who buy their own health insurance enroll through HealthCare.gov.
About nine out of ten eligible enrollees save money on 2023 premium payments amounting to an average savings (via the premium tax credit) of $577/month. After subsidies were applied, the average enrollee's monthly cost was about $73/month.10
In addition to premium tax credits (subsidies), the Affordable Care Act provides cost-sharing reductions (CSR) that will reduce out-of-pocket costs on Silver-level plans if your household income isn't more than 250% of the poverty level.11 In 2023, 96% of Oklahoma Marketplace enrollees were receiving CSR benefits.12 
Between the premium subsidies and cost-sharing reductions, you may find that an ACA plan in the Oklahoma Health Insurance Marketplace provides the best value for your health insurance needs.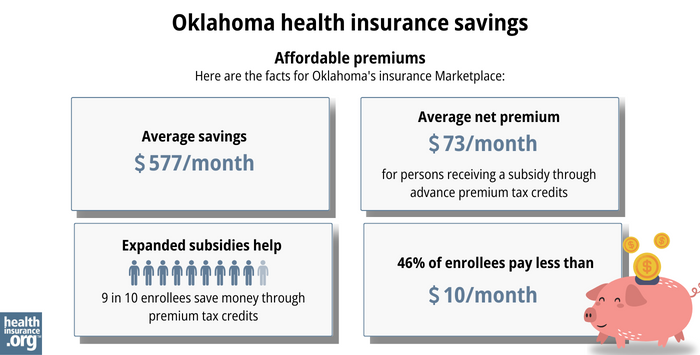 Source: CMS.gov10
Oklahoma implemented the ACA's expansion of Medicaid starting in mid-2021, under the terms of a voter-approved ballot measure. So Medicaid is available to Oklahoma adults under age 65 with household income up to 138% of the poverty level — currently a little more than $20,000 in annual income for a single person.13 (Medicaid was already available to children with even higher household income,14 and is available to older adults but with both income and asset limits.)
How many insurers offer Marketplace coverage in Oklahoma?
Are Marketplace health insurance premiums increasing in Oklahoma?
For premiums on their 2024 coverage, Oklahoma's exchange insurers have implemented the following average rate changes,15 which amount to an overall weighted average rate increase of about 4.4%.16
Oklahoma's ACA Marketplace Plan 2024 Approved Rate Increases by Insurance Company

Issuer
Percent Increase
BCBSOK

5.0%

Oscar

4.5%

Medica

-0.4%

CommunityCare

1.6%

UnitedHealthcare
–

3.5%

Ambetter (Centene/Celtic)

6.1%

Taro Health

New for 2024, so no applicable rate change
Source: HealthCare.gov15
Note that rate changes are applicable to full-price premiums, but most Marketplace enrollees qualify for premium subsidies and thus do not pay full price for their coverage.
Oklahoma is one of only two states that do not have their own effective rate review programs, so Oklahoma health insurance rates are reviewed by federal regulators.17
For perspective, here's an overview of how full-price (pre-subsidy) premiums have changed over time in Oklahoma's individual/family market:
2015: Average increase of 12.2%.18
2016: Average increase of 25.8%.19
2018: Average increase of 8.7%.22
2019: Average decrease of 1.9%.23
2020: Average increase of 2.7%.24
2021: Rates mostly unchanged.25
2022: Average increase of 4.4%.26
2023: Average increase of 8%-10%.27
Oklahoma submitted a 1332 waiver proposal to the federal government in 2017. The goal was to create a reinsurance program to reduce full-price premiums in the state's individual market, followed by additional extensive state-led reforms. But amid approval delays the state withdrew the waiver proposal and has not revisited the issue since.28
How many people are insured through Oklahoma's Marketplace?
During the open enrollment period for 2023 coverage, 203,157 people enrolled in private individual market plans through Oklahoma's exchange.29 This was a record high for the state, on the heels of previous record highs in 2022 and 2021. 
The surge in enrollment during these years was due in part to American Rescue Plan (ARP) provisions that made ACA's premium subsidies more substantial. Under the ARP – now extended by the Inflation Reduction Act – subsidies are more significant and accessible through the end of 2025.29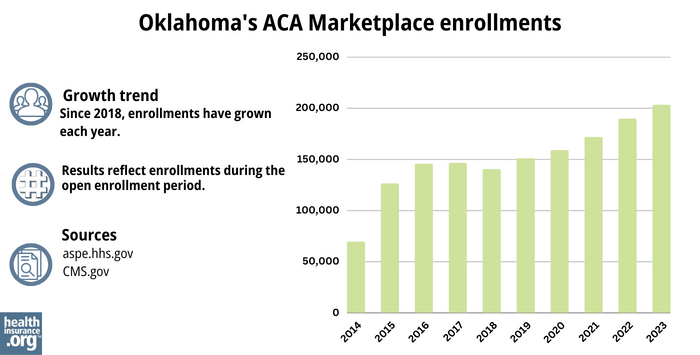 Source: 2014,30 2015,31 2016,32 2017,33 2018,34 2019,35 2020,36 2021,37 2022,38 202329
What health insurance resources are available to Oklahoma residents?
HealthCare.gov
800-318-2596
State Exchange Profile: Oklahoma
The Henry J. Kaiser Family Foundation overview of Oklahoma's progress toward creating a state health insurance exchange.
Oklahoma Insurance Department
Assists people insured by private health plans, Medicaid, or other plans in resolving problems pertaining to their health coverage; assists uninsured residents with access to care. (405) 521-2991 / Toll Free in OK: (800) 522-0071 / [email protected]
---
Louise Norris is an individual health insurance broker who has been writing about health insurance and health reform since 2006. She has written dozens of opinions and educational pieces about the Affordable Care Act for healthinsurance.org. Her state health exchange updates are regularly cited by media who cover health reform and by other health insurance experts.
Footnotes