See your Oregon health insurance coverage options.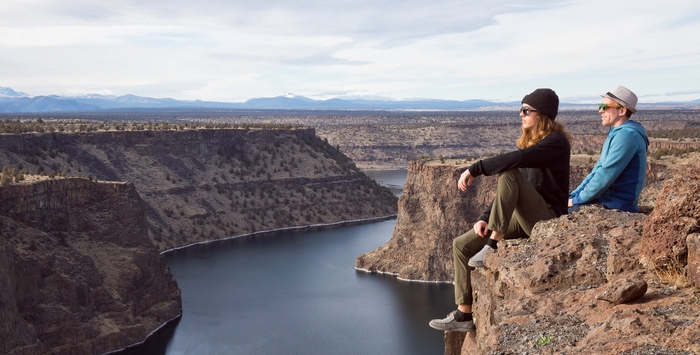 Find individual and family plans, small-group, short-term or Medicare plans through licensed agency partners.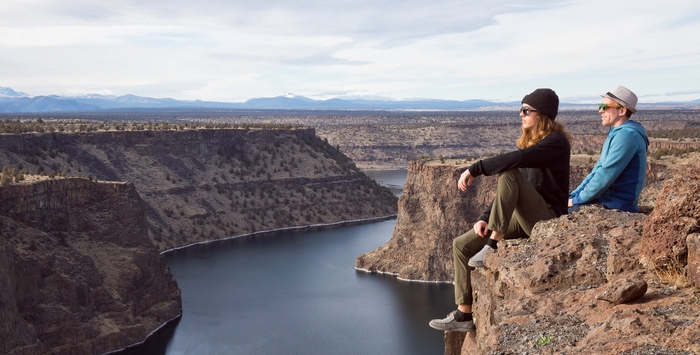 Oregon Health Insurance Consumer Guide
This guide is designed to help you understand the health coverage options and possible financial assistance available to you and your family in Oregon. Many people find that an ACA Marketplace plan, often called Obamacare or exchange plan, is a cost-effective choice. 
Oregon operates a state-run health insurance Marketplace (exchange) but uses the HealthCare.gov enrollment platform. You can visit OregonHealthCare.gov to gather information about health insurance plans, eligibility, and more.1 When you're ready to apply and enroll, you'll be redirected to HealthCare.gov.
Explore our other comprehensive guides to coverage in Oregon
Frequently asked questions about health insurance in Oregon
Frequently asked questions about health insurance in Oregon
Who can buy Marketplace health insurance?
You can buy a health plan through the Oregon exchange if:4
You reside in Oregon.

You are a U.S. citizen or national.

You are not incarcerated.

You are not already enrolled in Medicare.
To qualify for financial assistance (premium subsidies and cost-sharing reductions), you must meet additional requirements: 
Your eligibility depends on your income and how it compares with the cost of the second-lowest-cost Silver plan in your area. The cost of that Silver plan varies based on your age and location. 

You must not have access to affordable health coverage through your employer. If your employer offers health insurance, but you feel it's too expensive, you can use our

Employer Health Plan Affordability Calculator

to see if you might qualify for premium subsidies in the Marketplace. 

You must not be eligible for Medicaid or CHIP.
When can I enroll in an ACA-compliant plan in Oregon?
In Oregon, open enrollment for ACA Marketplace individual and family health coverage is from November 1 through January 15. 
Enrolling in an exchange plan or changing your coverage outside of the open enrollment period is possible if you meet the criteria for a Special Enrollment Period (SEP).5 This means you must have a qualifying life event, such as losing your health insurance, getting married, or having a baby.
If the open enrollment deadline has passed and you don't meet the SEP requirements, you can still sign up for an ACA plan. However, specific conditions need to be met, such as:
For people who lose Medicaid or CHIP coverage between March 31, 2023, and July 31, 2024, there's an extended SEP available for enrollment.6
How do I enroll in a Marketplace plan in Oregon?
Here are the main ways to enroll in a Marketplace health plan in Oregon:

Online: You can visit OregonHealthCare.gov to learn more about health insurance plans and eligibility.7 When it's time to apply and enroll, you'll be redirected to the federal Marketplace website, HealthCare.gov.
By Phone:

Dial 1-800-318-2596 (TTY: 1-855-889-4325) to enroll with a Marketplace representative. The call center is available 24 hours a day, seven days a week, but it's closed on holidays.



In-person: Enrollment assistance is also available from trained Navigators and assisters who can answer your questions. Go to localhelp.HealthCare.gov or OregonHealthCare.gov/GetHelp to find local help in your area.8
How can I find affordable health insurance in Oregon?
Individuals and families have several options to find affordable health insurance coverage in Oregon:
ACA Marketplace (HealthCare.gov):

You may qualify for income-based subsidies known as Advance Premium Tax Credits (APTC) that help lower your monthly premiums through the ACA Marketplace. About eight out of 10 Oregon exchange enrollees who applied for financial help qualified, saving around $503 monthly with premium tax credits in Oregon. People who received these subsidies pay an average monthly premium of $155.

9
Cost-sharing reductions: You may be eligible for cost-sharing reductions (CSR) if your income is below 250% of the federal poverty level.10 CSRs help lower your out-of-pocket costs, making coverage more affordable.
Medicaid:

Oregon residents may qualify for affordable

Medicaid coverage

if eligible.

Short-term health insurance:

If you're not eligible for subsidies, Medicare, or Medicaid,

short-term health insurance

may offer a less costly option.
How many insurers offer Marketplace coverage in Oregon?
In 2023, there are six insurers providing plans through Oregon's exchange, and all six will also continue offering plans for 2024: 11

BridgeSpan Health Company

Kaiser Foundation Health Plan of the Northwest

Moda Health Plan, Inc.

PacificSource Health Plans

Providence Health Plan 

Regence BlueCross BlueShield of Oregon
In each county, Oregonians can choose from at least four insurers for 2023 coverage.12
Are Marketplace health insurance premiums increasing in Oregon?
Insurers proposed the following individual market average rate changes for 2024: 11
Oregon's ACA Marketplace Plan 2024 Proposed Rate Increases by Insurance Company

Issuer
Percent Increase
BridgeSpan Health Company
8.4%
Kaiser Foundation Healthplan of the NW
7.9%
Moda Health Plan, Inc.
3.9%
PacificSource Health Plans
3.5%
Providence Health Plan
8.5%
Regence BlueCross BlueShield of Oregon
4.7%
Source: Oregon.gov 11
The average rate changes apply to full-price premiums. However, about 81% of Oregonians who enrolled in ACA plans received subsidies in 2023 – which means they did not pay the full rate.9
In addition, subsidy amounts are adjusted each year based on the cost of the second-lowest-priced Silver plan. So, as coverage costs increase, subsidies may also grow to offset part of the change.
If your plan's rates are increasing next year, consider exploring other options on the ACA Marketplace. You may find a more affordable plan that still meets your coverage needs.
How many people are insured through Oregon's Marketplace?
During the 2023 open enrollment period, 141,963 people signed up for individual/family health coverage through the Oregon exchange.9
 Enrollment in Oregon declined slightly from 2022 to 2023, although enrollment nationwide hit a record high.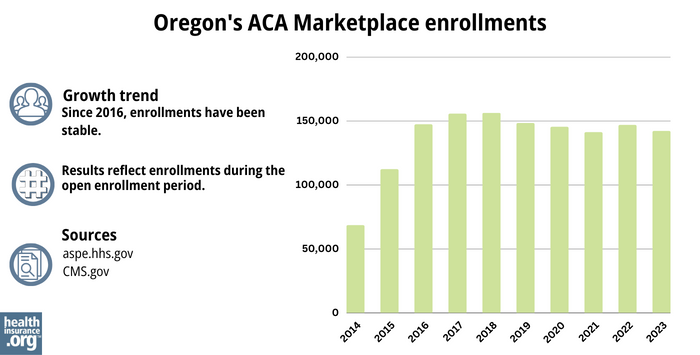 Source: 2014,13 2015,14 2016,15 2017,16  2018,17 2019,18 2020,19 2021,20 2022,21 202322
What health insurance resources are available to Oregon residents?
OregonHealthCare.gov
A state-run service that connects Oregon residents with health coverage options.
HealthCare.gov
The Marketplace for individuals and families buying their own health coverage; premium subsidies and cost-sharing reductions are available for eligible enrollees who use the Marketplace.
Oregon Division of Financial Regulation
Licenses and regulates health insurance companies in Oregon, as well as agents and brokers. Can address consumer questions and complaints about regulated entities.
Medicare Rights Center
A nationwide resource that can answer questions about Medicare and provide information that beneficiaries need.
Oregon Senior Health Insurance Benefits Assistance
A local service that can provide assistance, information, and enrollment counseling to Medicare beneficiaries and their caregivers.
---
Louise Norris is an individual health insurance broker who has been writing about health insurance and health reform since 2006. She has written dozens of opinions and educational pieces about the Affordable Care Act for healthinsurance.org. Her state health exchange updates are regularly cited by media who cover health reform and by other health insurance experts.
Footnotes