Republicans have been on a crusade for the past seven years to repeal the Affordable Care Act. Now, with the votes in Congress to scrap the law and a president who campaigned to do the same in the White House, congressional Republicans are facing a torrent of push back from voters worried about losing their health insurance.
In the past few weeks alone, Republicans around the country have seen their phone lines explode and crowds packed into town hall meetings nationwide – many of which have become quite heated. Despite the law having struggled to gain wide popularity over the years, the growing realization that its repeal could deal a real blow to millions of Americans has started to sink in – and it's sparked a political fire among voters nationwide.
How much of an impact will voters' pleas to protect health insurance have? Time will tell.
But to get a sense of how congressional representatives are responding to their constituents' calls about the Affordable Care Act, whether callers reached a real person and whether they felt their concerns were heard, I reached out, via social media, to a handful of folks who contacted their representatives asking them to preserve the Affordable Care Act.
Here's what they had to say.
Social artist and activist, Pussi Artist
Pussi Artist is writer, performance artist and advocate. As the Affordable Care Act was first being discussed back in 2009, she started interviewing people about their health insurance coverage and costs, and began painting portraits and telling the stories of the people she spoke with, a project she's chronicled on her website, Art as Social Inquiry.
The Pennsylvania resident recently attended a congressional hearing in Washington DC, an experience she wrote about in the Huffington Post.
She's also reached out to her Senators, Patrick Toomey and Robert Casey, and to her district's representative, Brian Fitzpatrick.
She recently got wind of Fitzpatrick conducting a "listening tour" in which he invites small groups of constituents to his office to discuss issues and hear their concerns.
"I've written twice to ask if I could meet with him and bring some people with me," she said. Two emails and a phone call later, and she says, "I have not heard back."
Mary Baker Eaton
Mary Baker Eaton, a contemporary realist painter who lives in Newburyport, Massachusetts, is politically active and committed to protecting the Affordable Care Act.
For Baker Eaton, though, reaching out to her congressional representatives is an act of gratitude. She's made multiple calls just to thank them for the work they're doing.
Senators Ed Markey and Elizabeth Warren, and House Representative Seth Moulton, are all Democrats in support of the law. And, unlike representatives from other states, Baker Eaton says they're well educated about its provisions and what's at stake. "My senators and members of Congress have been proactive and warriors for the Affordable Care Act. They're heroes leading the fight," she says.
Matthew BC
Also from Massachusetts, Matthew BC (he asked that his full name not be published), a Boston-area lawyer who focuses on healthcare, urged both of his senators to be vigorous and vocal in their opposition to Tom Price's nomination for Secretary of HHS, and to thank Senators Warren and Markey for doing so.
He expects little more from his call to a congressional office than for the staffer to enter his information into a tally sheet and for the representative to take the opinions of constituents into account. But he recently attended a town hall hosted by Rep. Stephen Lynch that resulted in a more personal response.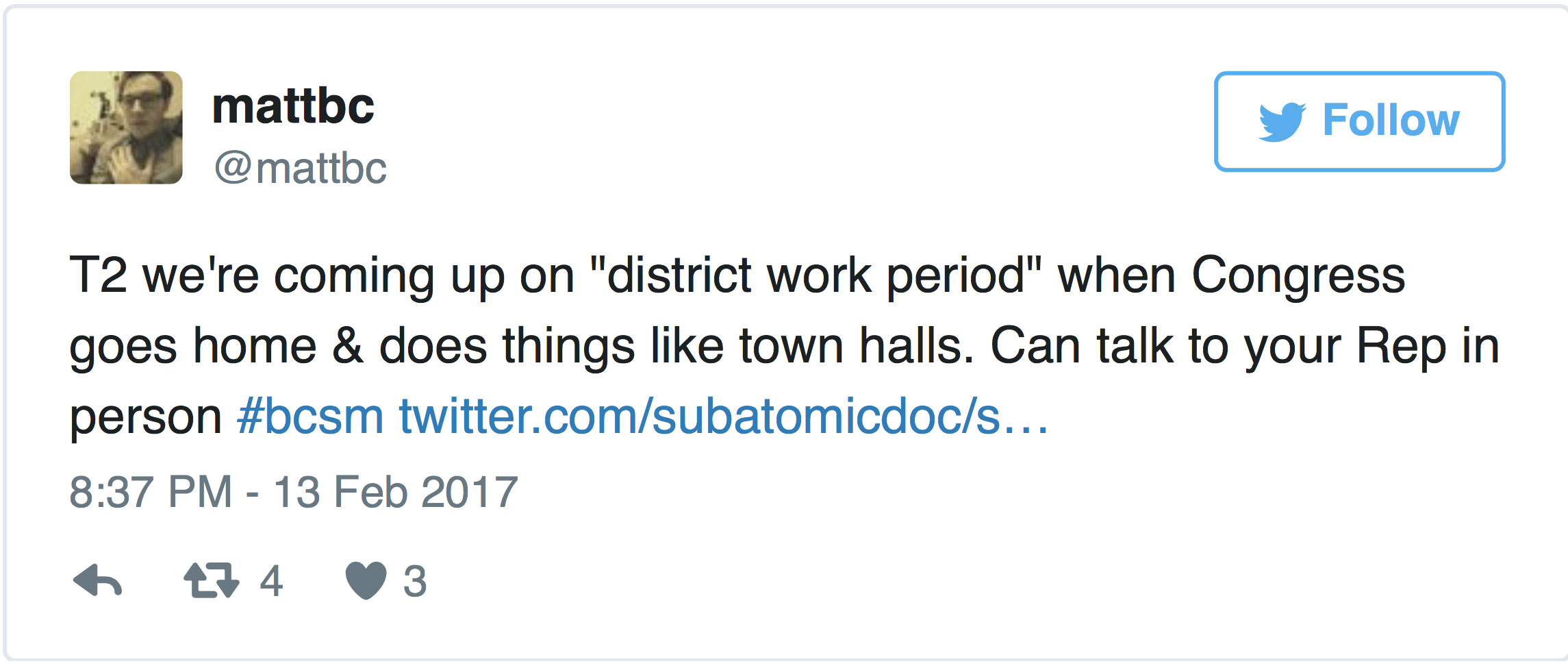 Matthew suffers from Crohn's Disease, a detail he shared at the meeting with the congressman. "When your question at an in-person town hall begins with 'It took $150,000 to keep me alive last year, and $300,000 the year before that,' it has a way of grabbing attention," he says.
One of Lynch's staffers offered to meet with a group with which Matthew participates – the Healthcare Rights Coalition – once substantive proposals start moving through the Congress.
LoAnn Heuring
LoAnn Heuring has a very different story to tell about reaching out to her state representatives.
A primary care physician currently living in Atlanta, GA, Heuring says she's talked to a lot of people who feel like their voices are not being heard, and counts herself among them. She recently reached out to Senator Johnny Isakson and says she spoke with his representative, who seemed uninformed.
A must-read: how #ACARepeal & replacement plan falls short & #GOP #false promises primer by @CenterOnBudgethttps://t.co/Rc5U3RLwnA

— LoAnn (@LoAnnica) February 8, 2017
"She wasn't well versed and just knew the talking points," Heuring says of her call with Isakson's office.
The representative seemed to simply be checking a box – yes or no – to indicate the caller either supported or was opposed to the law's repeal and to Tom Price's nomination for secretary of Health and Human Services. That's not atypical. But in this case, the senator's representative couldn't say whether Isakson would take the calls he received on the issue into consideration, and Heuring says it wasn't clear the representative fully understood the message she wanted to send to the senator.
"I had to summarize in the end to make sure the tallies were in the right places."
She hung up feeling frustrated, and not terribly hopeful that her opinion would make its way to the senator.
Sascha Cohen
Sascha Cohen didn't get a response to the multiple emails and postcards she sent to her two senators – Kamala Harris and Dianne Feinstein – and representative Brad Sherman, to urge them to defend the ACA. But she says she didn't expect to.
A Ph.D. student living in West Hills, CA, Cohen just wanted to send a clear message: "I'm a 31-year old Californian with breast cancer who depends on affordable access to health insurance in order to stay alive."
Want your voice to be heard?
Your lawmakers are listening, experts say. The key to getting through is to know how best to make your voice heard.
Matthew says that joining with others and, if possible, showing up in person, is effective. If that's not possible, make phone calls, send faxes, letters and postcards, or get out and march.
The Indivisible Guide, a 26-page protest guide written by a handful of fellow ex-Democratic aides, is full of insider tips on how to get your lawmakers' attention.
And, former long-time Massachusetts congressman Barney Frank offers some good, concrete advice in this piece about how not to waste your time pressuring lawmakers.
"Done the right way, communications from citizens can have a significant impact on legislators, even when they claim to be immune to "pressure," Frank writes.
Have you called your lawmakers to tell them how you feel about the Affordable Care Act? If you've been successful, please send us your story.
---
Lisa Zamosky is a nationally known expert on health insurance, health care policy, the Affordable Care Act and consumer health and finance concerns. She has written for Money Magazine, is a former health care business columnist for the Los Angeles Times, and health insurance/reform expert and blogger with WebMD. Lisa was also a correspondent of the California Healthcare Foundation. Her work has appeared in U.S. News & World Report, Reuters, MSNBC.com, Health.com, Kaiser Health News, in the Chicago Tribune, Baltimore Sun, NBC.com, among other publications.