See your Illinois health insurance coverage options now.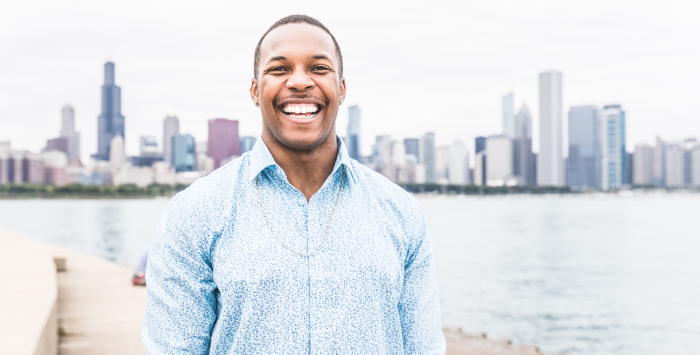 Find affordable individual and family plans, small-group, short-term, or dental plans through licensed agency partners.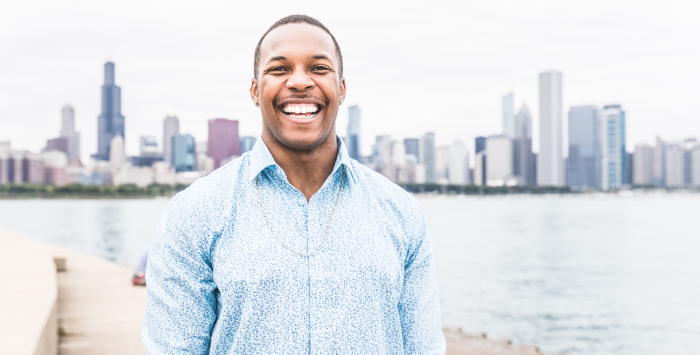 Illinois Health Insurance Consumer Guide
Illinois runs a partnership exchange with the federal government. The state operates Get Covered Illinois, which has a website, in-person help, and a help desk,1 but Illinois residents use the federally-run HealthCare.gov platform to enroll in Affordable Care Act (ACA) Marketplace health plans.
But starting in the fall of 2025, for coverage effective in 2026, Illinois will have its own state-run enrollment platform.
Use this guide to help you understand the Illinois Marketplace and choose the right health plan for you and your family. ACA Marketplace plans – or Obamacare or exchange – are affordable choices for many people. Enrolling on the exchange may make you eligible for financial assistance through an advance premium tax credit.
Explore our other comprehensive guides to coverage in Alaska
Frequently asked questions about health insurance in Illinois
Frequently asked questions about health insurance in Illinois
Who can buy Marketplace health insurance?
You can buy a health plan through the exchange if:7
You reside in the United States.

You are a U.S. citizen or national.

You are not incarcerated.

You are not already covered Medicare.
Qualification for financial assistance, including premium subsidies and cost-sharing reductions (CSR), depends on your income and how it compares with the cost of the second-lowest-cost Silver plan in your area. This can vary based on where you live and your age. Moreover, to be eligible for financial aid for your Marketplace plan, you must:
Not have affordable health coverage available through your job or your spouse's job. If you have access to employer-sponsored insurance, but it seems too expensive, you can use our

Employer Health Plan Affordability Calculator

to see if you might be eligible for premium subsidies on the Marketplace.

Not qualify for Medicaid or CHIP.

Not be eligible for premium-free Medicare Part A.
When can I enroll in an ACA-compliant plan in Illinois?
In Illinois, open enrollment for ACA Marketplace individual and family health coverage is from November 1 through January 15.8 
You can sign up for an exchange plan or make coverage changes outside of open enrollment if you meet special enrollment period (SEP) requirements.9 This generally means you must have a qualifying life event, such as losing your health insurance, getting married, or having a baby.
But there are some special enrollment periods that don't require a specific qualifying event. So if the open enrollment deadline has passed and you haven't experienced a qualifying event, you may still be able to sign up for an ACA plan. For example:

If you're eligible for premium tax credits and your income is not more than

150% of the poverty level

, you can enroll anytime until at least the end of 2025.10
If you're a Native American, you can enroll whenever necessary.11
For those who lose Medicaid or CHIP coverage between March 31, 2023 and July 31, 2024, an extended SEP allows you to enroll anytime during that window.12
Illinois legislation (HB5142) was enacted in 2022 that created an easy enrollment program, which became available as of early 2023, when 2022 tax returns were being filed.
For the time being, Illinois cannot offer a special enrollment period for marketplace plans in conjunction with the easy enrollment program, because using the federally-run exchange means there cannot be state-specific SEP opportunities. That will change as of 2026, when Illinois is running its own exchange platform.
For now, Illinois residents can indicate on their state tax return whether they'd like their information to be shared with applicable state agencies (This is Step 12 on the 2022 Illinois state tax return).
If the person is found to be eligible for Medicaid or CHIP, the state can notify them and help them enroll, since those programs have year-round enrollment.13
How do I enroll in a Marketplace plan in Illinois?
Here are the main ways to enroll in a Marketplace health plan in Illinois:
Online:

You can sign up directly through HealthCare.gov, federal Marketplace website.

By Phone:

Dial 1-800-318-2596 (TTY: 1-855-889-4325) to enroll over the phone with a Marketplace representative. The call center is available 24 hours a day, seven days a week, but it's closed on holidays.

In-person: Enrollment assistance is also available from trained Navigators and assisters who can answer your questions. Go to localhelp.HealthCare.gov or getcovered.illinois.gov to find in-person assistance in your area.
How can I find affordable health insurance in Illinois?
Individuals and families have several options to find affordable health insurance coverage in Illinois:
ACA Marketplace (HealthCare.gov): The ACA Marketplace is the only place where you can qualify for income-based subsidies known as Advance Premium Tax Credits (APTC) that help lower your monthly premiums. Nearly nine out of 10 Illinois exchange enrollees were eligible for subsidies on 2023 plans, saving $540 monthly with premium tax credits in Illinois. As a result, the average after-subsidy monthly premium was $147.14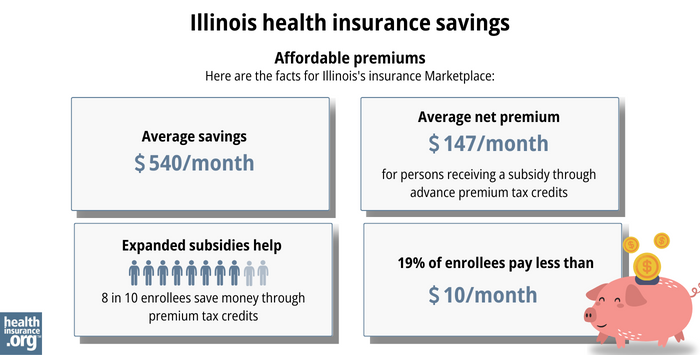 Cost-Sharing Reductions: You may qualify for cost-sharing reductions (CSR) if your income is below 250% of the federal poverty level.15 CSRs help reduce your out-of-pocket costs, making coverage more affordable.
Medicaid:

Illinois residents may qualify for affordable

Medicaid coverage

if eligible.



Short-Term Health Insurance:

For people who are not eligible for subsidies, Medicare, or Medicaid,

short-term health insurance

may offer a more budget-friendly option.
How many insurers offer Marketplace coverage in Illinois?
Eleven insurers are offering exchange plans in Illinois.16 The following insurers offer exchange plans in Illinois, with plan availability varying by area:

Aetna (new for 2023)

Celtic Insurance Co. (Ambetter)

Cigna Healthcare of Illinois, Inc.

Health Alliance Medical Plans, Inc. (HAMP)

Health Care Service Corporation (Blue Cross Blue Shield of Illinois)

Quartz Health Benefit Plans Corporation 

MercyCare HMO

Molina Healthcare of Illinois, Inc. 

Oscar Health Plan, Inc. 

SSM Health Plan (WellFirst Health)

UnitedHealthcare
In the first few years of ACA implementation, Illinois had a CO-OP health plan available, known as Land of Lincoln Mutual Health Insurance Company. But like most of the other CO-OPs, it didn't survive. Land of Lincoln was liquidated by Illinois regulators in the fall of 2016.
Are Marketplace health insurance premiums increasing in Illinois?
Illinois has historically had very little transparency in terms of rate filing details for health plans, and state regulators have not had the authority to modify or reject rate changes proposed by insurers. But that will change as of the 2025 plan year (for rates filed in 2024), due to a new law that was enacted in 2023 (some provisions of the law will be phased in the following year).17
Illinois' individual market insurers have proposed the following average rate increases for 2024 (note that these changes apply to full-price premiums, but most Marketplace enrollees are eligible for subsidies that offset at least some of their monthly premiums):18 
Illinois' ACA Marketplace Plan 2024 Proposed Rate Increases by Insurance Company

Issuer
Percent Increase
Aetna
-2.90%
Celtic Insurance Co. (Ambetter)
6.87%
Cigna HealthCare of Illinois, Inc.
5.91%
Health Alliance Medical Plans, Inc. (HAMP)
10.68%
Health Care Service Corporation (Blue Cross Blue Shield of Illinois)
4.79%
Quartz Health Benefit Plans Corporation
14.41%
MercyCare HMO
12.15%
Molina Healthcare of Illinois, Inc.
3.19%
Oscar Health Plan, Inc.
6.77%
SSM Health Plan (WellFirst Health)
22.21%
UnitedHealthcare
3.02%
Source: HealthCare.gov18
For perspective, here's how average individual/family health insurance premiums have changed in Illinois over the years (note that in Illinois, average rate changes have often been published based on rate changes for the lowest-cost plan at each metal level, rather than overall rate changes, which differs from how this information has typically been presented in other states. And weighted averages have not typically been available in Illinois, due to the lack of transparency in the rate filing process. This should change in future years, under the terms of the state's new law.)
How many people are insured through Illinois' Marketplace?
What health insurance resources are available to Illinois residents?
---
Louise Norris is an individual health insurance broker who has been writing about health insurance and health reform since 2006. She has written dozens of opinions and educational pieces about the Affordable Care Act for healthinsurance.org. Her state health exchange updates are regularly cited by media who cover health reform and by other health insurance experts.
Footnotes