See your Missouri health insurance coverage options.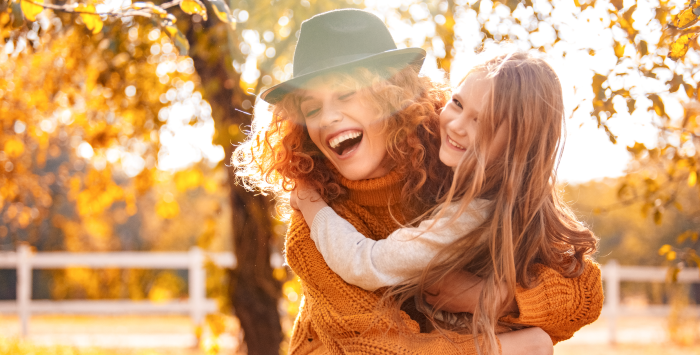 Find affordable individual and family plans, small-group, short-term, or dental plans through licensed agency partners.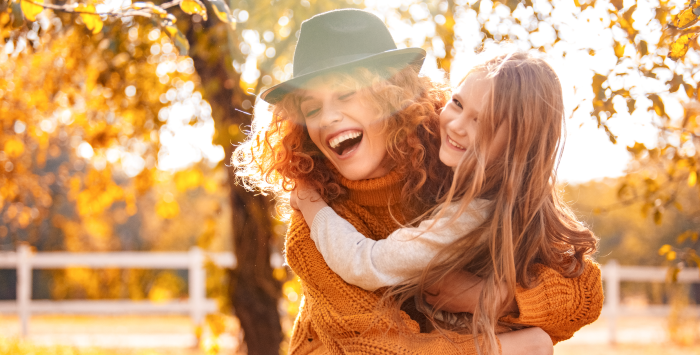 Missouri Health Insurance Consumer Guide
This guide was created to help you understand the health insurance options available to you and your family in Missouri. An Affordable Care Act (ACA) Marketplace plan is cost-effective for many people.
These plans are also called Obamacare or exchange plans. You can get ACA plans in Missouri on the Marketplace website. The federal government regulates the Marketplace website and lets you shop for health plans from private insurance companies. If you buy a plan on the Marketplace, the government may help pay for it through an advance premium tax credit.
Explore our other comprehensive guides to coverage in Missouri
Frequently asked questions about health insurance in Missouri
Frequently asked questions about health insurance in Missouri
Who can buy Marketplace health insurance?
You can buy individual and family health insurance from Missouri's Marketplace if:4

You live in Missouri. 

You are lawfully present in the U.S.

You don't have Medicare.

You are not incarcerated.
When can I enroll in an ACA-compliant plan in Missouri?
In Missouri, the open enrollment period to sign up for ACA-compliant individual and family health plans is from November 1 to January 15.

If you enroll by December 15, your coverage starts on January 1.

If you enroll between December 16 and January 15, your coverage starts February 1.5
Outside of open enrollment, you can still make plan changes or enroll in the Marketplace if you qualify for a special enrollment period (SEP). Most SEPs require a qualifying life event, such as involuntary loss of coverage, marriage, or having a baby.

But there are instances where you don't need a qualifying life event to apply.6 For example:

If you're eligible for premium tax credits and your income is not more than 150% of the poverty level, you can enroll anytime until at least 2025.7
If you're a Native American, you can enroll whenever necessary.8
If you lose Medicaid or CHIP between March 31, 2023 and July 31, 2024, you can enroll through the extended SEP.9
How do I enroll in a Marketplace plan in Missouri?
In Missouri, you have a few options to enroll in a Marketplace health plan:

Directly through HealthCare.gov – the ACA exchange

By phone at (800) 318-2596

By contacting agents, navigators, certified application counselors or an approved enhanced direct enrollment entity.10

By mailing in a paper application



Many people – like early retirees not yet on Medicare, self-employed people, and those who work for small businesses without health benefits – use the ACA Marketplace.

How can I find affordable health insurance in Missouri?
In Missouri, you can find affordable health plans through the ACA Marketplace's website: HeathCare.gov.

Under ACA, you may qualify for income-based subsidies called Advance Premium Tax Credits (APTC). These credits lower your premiums.
In 2023, more than 90% of people enrolled in Missouri's exchange received premium subsidies, saving about $584 per month.Those who received subsidies pay an average monthly premium of $94.11
If your income is less than 250% of the federal poverty level, you may also receive cost-sharing reductions (CSR).12 CSRs reduce your deductibles and out-of-pocket costs. 
Missourians may also find affordable coverage through Medicaid if eligible. See our Medicaid guide in Missouri.
Short-term plans are also a low-cost option for people who are not eligible for employer plans, Medicaid, Medicare, or subsidies through the exchange.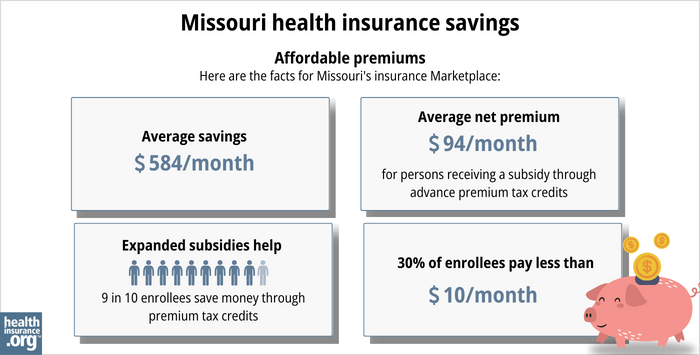 Source: CMS.gov 13
How many insurers offer Marketplace coverage in Missouri?
Ten health insurers sell plans on Missouri's Marketplace in 2023.14 UnitedHealthcare rejoined the Marketplace for 2023 after leaving in 2016.
Here are the insurers offering plans in different areas of Missouri for 2023:
Aetna

Blue Cross Blue Shield of Kansas City

Celtic Insurance Company

Cigna

Cox Health Systems Insurance Company

Healthy Alliance Life Insurance Company (Anthem)

Medica Insurance Company

Oscar Insurance Company

SSM Health Insurance Company

UnitedHealthcare
Are Marketplace health insurance premiums increasing in Missouri?
Here are the 2024 proposed rate changes per the Missouri Department of Insurance:15
Missouri's ACA Marketplace Plan 2024 Proposed Rate Increases by Insurance Company

Issuer
Percent Increase
Aetna
6.09%
Blue Cross Blue Shield of Kansas City
-4.30%
Celtic Insurance Company
4.36%
Cox Health Systems Insurance Company
-4.15%
Healthy Alliance Life Insurance Company (Anthem)
4.40%
Medica Insurance Company
-0.19%
Oscar Insurance Company
1.38%
SSM Health Insurance Company
18.71%
United HealthCare Insurance Company
5.79%
Source: HealthCare.gov16
Cigna will not offer individual and family health plans on Missouri's Marketplace in 2024. 
The approved rate increases are for full-price premiums. Since most people on Missouri's exchange receive premium tax credits, they don't pay the full price.17 If you qualify for subsidies, your net rate change depends on changes in your plan rates and your subsidy amounts.
How many people are insured through Missouri's Marketplace?
During the 2023 open enrollment, 257,629 people signed up for private health plans through Missouri's exchange/Marketplace.18
Usually, when a state expands Medicaid, Marketplace enrollment drops. That's because people with income between 100 and 138% of the federal poverty level transfer from Marketplace plans to Medicaid. But Missouri's Marketplace enrollment grew in 2022 and 2023 despite the 2021 Medicaid expansion. This growth is likely because of larger subsidies from the American Rescue Plan and the Inflation Reduction Act. The larger and more accessible subsidies make coverage more affordable.19
What health insurance resources are available to Missouri residents?
---
Louise Norris is an individual health insurance broker who has been writing about health insurance and health reform since 2006. She has written dozens of opinions and educational pieces about the Affordable Care Act for healthinsurance.org. Her state health exchange updates are regularly cited by media who cover health reform and by other health insurance experts.
Footnotes