See your Utah health insurance coverage options.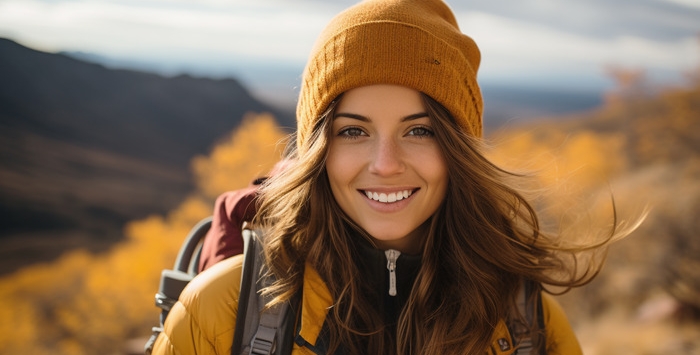 Find individual and family plans, small-group, short-term or Medicare plans through licensed agency partners.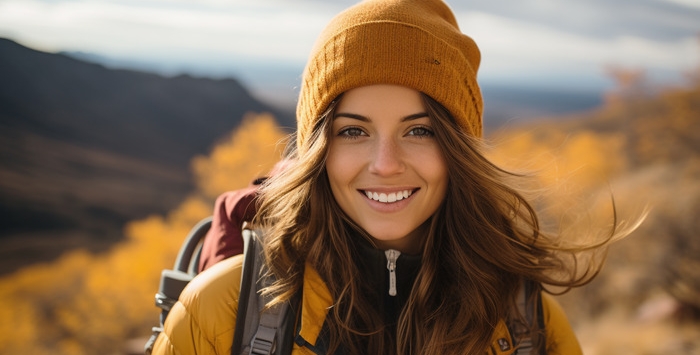 Utah Health Insurance Consumer Guide
If you need help navigating the Utah Marketplace, this guide is for you. You may find that an Affordable Care Act (ACA) Marketplace plan – commonly referred to as an Obamacare plan or exchange – may be an affordable choice.
In Utah, the exchange or Marketplace is operated at the federal level, meaning individuals and families enroll in health plans through HealthCare.gov or authorized enhanced direct enrollment entities.1
The Marketplace serves individuals and families who are looking to purchase their own health insurance. This includes people who have retired early and are not yet eligible for Medicare, self-employed individuals, and employees of small businesses that do not provide health benefits. Enrolling in a plan on the exchange is the only way Utah residents can access financial assistance for their individual market plan coverage.
For the 2024 plan year, two new insurers have joined Utah's marketplace: Imperial Health Plan of the Southwest, Inc. and Aetna Health of Utah, Inc.
Explore our other comprehensive guides to coverage in Utah
Frequently asked questions about health insurance in Utah
Frequently asked questions about health insurance in Utah
Who can buy Marketplace health insurance?
Most people in Utah can buy health insurance through the exchange. Marketplace health coverage is available if you meet the following criteria:4
You must be a resident of Utah.

You must be lawfully present in the U.S.

You can't be incarcerated.

You must not be enrolled in Medicare.
Whether or not you qualify for financial assistance with your premium, deductible, or out-of-pocket costs depends on your income and how it compares with the cost of the second-lowest-cost Silver plan in your area. 
Additionally, to qualify for financial assistance, you must: 
Not have access to affordable health coverage through an employer. If you think your employer-sponsored health plan is too expensive, use our

Employer Health Plan Affordability Calculator

to check if you qualify for premium subsidies in the Marketplace. 

Not be eligible for Medicaid or CHIP in Utah, or for premium-free Medicare Part A. 
When can I enroll in an ACA-compliant plan in Utah?
In Utah, the open enrollment window to sign up for ACA Marketplace individual and family health plans runs from November 1 to January 15.5
For coverage to start on January 1, enroll by December 15. Enrolling between December 16 and January 15 will push your coverage start date to February 1.
Outside of open enrollment, you can only sign up for coverage (through the exchange or directly through an insurance company) if you have a special enrollment period (SEP). In most cases, this means you need to have a qualifying life event, but there are some SEPs that don't require specific qualifying events, such as:
Your income is more than 138% of the poverty level but no more than

150% of the poverty level

, and you're eligible for premium tax credits. In this scenario, you can enroll until at least 2025 (note that if your income isn't more than 138% of the poverty level you'll likely qualify for Utah Medicaid, which accepts enrollments year-round).

Native Americans

can enroll whenever necessary.

For people who lose Medicaid or CHIP coverage between March 31, 2023, and July 31, 2024, there's an extended SEP available for enrollment.6
How do I enroll in a Marketplace plan in Utah?
You have a few ways to enroll in a Marketplace health plan in Utah:

Online:

Go to HealthCare.gov. This is the federal Marketplace website that also lets you shop around for plans.



By Phone:

Call 1-800-318-2596 (TTY: 1-855-889-4325) to talk to a representative over the phone. The call center is available 24 hours a day, seven days a week, except holidays.



In-person: Get help from a licensed insurance agent, navigator, or certified application counselor in your area. Look for assistance at localhelp.HealthCare.gov. Call 2-1-1 or visit takecareutah.org.7
No matter which of the above methods you use, you'll still purchase your health plan through HealthCare.gov since Utah uses the federally-facilitated Marketplace. The website will walk you through the application process and determine your eligibility for financial assistance.
How can I find affordable health insurance in Utah?
People in Utah have several options to find affordable health coverage:
ACA Marketplace plans (HealthCare.gov): If you sign up on HealthCare.gov, you may qualify for financial assistance called Advance Premium Tax Credits (APTC) to lower your monthly premiums. More than nine out of ten Utahns who signed up in the 2023 enrollment period received APTC averaging $385 per month. These subsidies reduced their average premium to $49 per month.8
Cost-sharing reductions (CSR): If your household income is no more than 250% of the federal poverty level, you can also receive cost-sharing reductions (CSR) assistance. CSRs reduce your deductible and out-of-pocket expenses, which means you can get the care you need at an affordable cost. 
Medicaid: Check if you're eligible for Medicaid by going online to HealthCare.gov or through medicaid.utah.gov.9
Short-term health insurance: Short-term health insurance is a lower-cost option in Utah, where five insurers offer short-term plans. Short-term health insurance is generally only a reasonable option if you're not eligible for any financial assistance through the exchange, or if you're trying to enroll outside of open enrollment and don't have a SEP.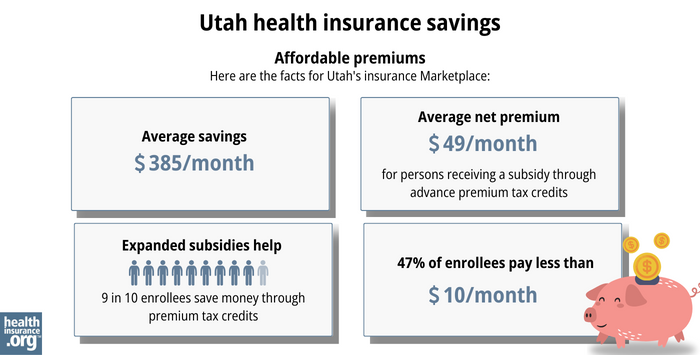 Source: CMS.gov10
How many insurers offer Marketplace coverage in Utah?
Utah's exchange has six insurers providing health plans in 2023, and will have eight in 2024. Insurers offer plans in different areas:11

Aetna Health of Utah (new for 2024)

BridgeSpan Health Company 

Cigna Health 

Imperial Health Plan of the Southwest, Inc. (new for 2024)

Molina Healthcare of Utah

Regence BlueCross BlueShield of Utah 

SelectHealth

University of Utah Health Plans 
Are Marketplace health insurance premiums increasing in Utah?
According to Utah's Health Insurance Transparency webpage, the following average rate changes have been approved for 2024 for Utah's individual market insurers, applicable to full-price premiums (most enrollees get premium subsidies and thus do not pay full price):12
Utah's ACA Marketplace Plan 2024 Proposed Rate Increases by Insurance Company

Issuer
Percent Increase
BridgeSpan Health Company

12.14%

Cigna Health

0%

Molina Healthcare of Utah
–

5.7%

Regence BlueCross BlueShield of Utah

8.8%

SelectHealth

11.9%

University of Utah Health Plans

10.06%

Imperial Health Plan of the Southwest

new for 2024

Aetna Health of Utah

new for 2024
Source: Utah Health Insurance Transparency12
For perspective, here's how average full-price premiums have changed in Utah's individual/family market in previous years:
How many people are insured through Utah's Marketplace?
What health insurance resources are available to Utah residents?
HealthCare.gov
The official federal website where you can sign up for health insurance plans through the ACA Marketplace. 
Utah Insurance Department
Oversees and licenses health insurance companies, brokers, and agents, offering information and help for various health insurance concerns. 
Utah Senior Services
Supports Medicare beneficiaries by providing assistance, information, and valuable resources.
Take Care Utah
An initiative aimed at helping Utah residents understand and access health insurance options, including the ACA Marketplace and Medicaid. 
---
Louise Norris is an individual health insurance broker who has been writing about health insurance and health reform since 2006. She has written dozens of opinions and educational pieces about the Affordable Care Act for healthinsurance.org. Her state health exchange updates are regularly cited by media who cover health reform and by other health insurance experts.
Footnotes