Welcome to another edition of Curbside Consult.
My guest this week is Michael Hiltzik, a columnist with the Los Angeles Times and the author of The New Deal: A Modern History, now out in paperback.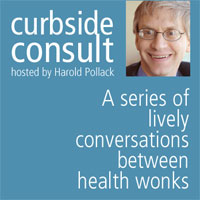 Michael has been doing great work covering the rollout of the Affordable Care Act and we spent a good deal of time in this multi-part interview discussing those efforts.
In Part 3, Michael talks about his interviews with the subjects of two high-profile Obamacare "horror stories." He explains what he found when he interviewed one woman who expected higher premiums, and a second woman who says she's losing her coverage because of the health reform law.
Michael raises a couple of good questions: whether many of the "victims" of the law are actually beneficiaries … and whether some skeptical Americans simply aren't yet sure how they'll fare.
I hope you enjoy the conversation.