EDITOR'S NOTE: This article is the first of a two-part look at recent premium increases on the individual health insurance market. Read Part 2: Escaping the crush of premium increases.
Open enrollment for 2017 individual market health insurance plans is right around the corner, but anxiety about 2017 coverage has been building for months. Nationwide, average rate increases in the individual market for 2017 are shaping up to be around 24 percent, which is certainly cause for concern. And at the same time, headlines have been appearing throughout the year about the carriers that are exiting the exchanges – or in some cases, the entire individual market – at the end of 2016.
It's no surprise that people are worried as we head into the upcoming open enrollment period. But we also have to remember that for the vast majority of Americans, the headlines about rate increases and carriers jumping ship are completely irrelevant.
To make a long story very short, the people who are bearing the brunt of the rate hikes – with little in the way of good solutions – are those who earn too much to qualify for subsidies, but not enough to qualify as wealthy. They include people who buy individual market health insurance on and off the exchanges, and while their situation is certainly daunting, they comprise a minuscule segment of the American population.
Snapshot of health coverage in the U.S.
What exactly do I mean by "minuscule?"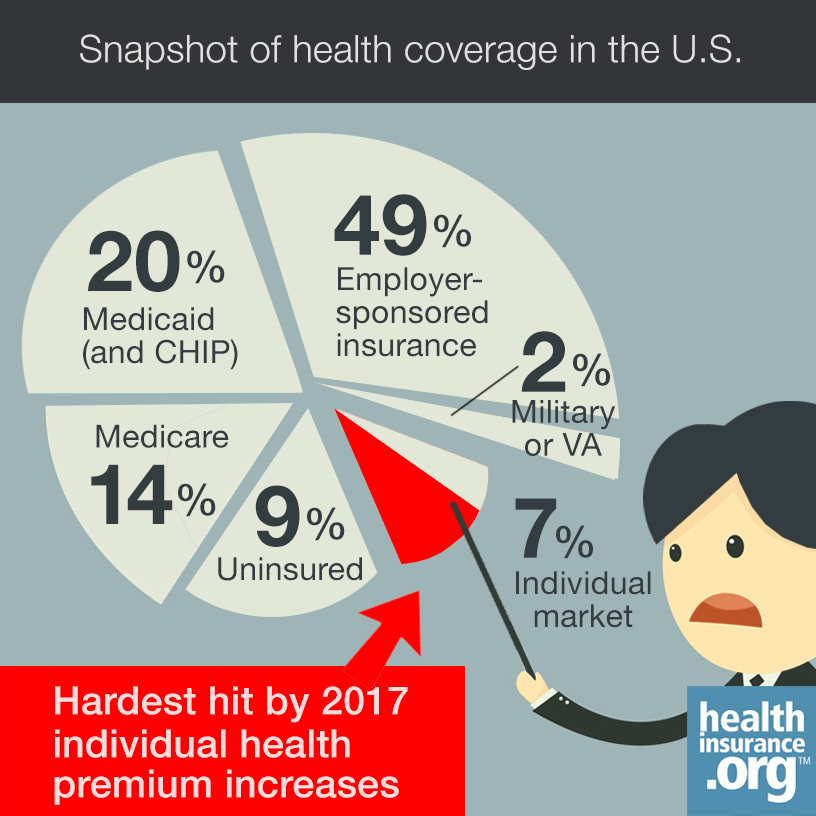 According to Kaiser Family Foundation data, the U.S. population's insurance coverage looked like this in 2015:
49 percent had employer-sponsored insurance.
20 percent had Medicaid (including CHIP).
14 percent had Medicare (including Original Medicare and Medicare Advantage).
7 percent had individual market coverage (including plans sold through the exchanges, ACA-compliant off-exchange plans, as well as grandmothered and grandfathered individual market plans).
2 percent had coverage through the military or VA.
9 percent were uninsured.
So while headlines about huge rate increases and carrier exits have been everywhere over the last few months, they only apply to the 7 percent of the population with individual health insurance coverage, and to anyone in the uninsured segment who's considering jumping into the insurance pool for 2017.
Many are protected by subsidies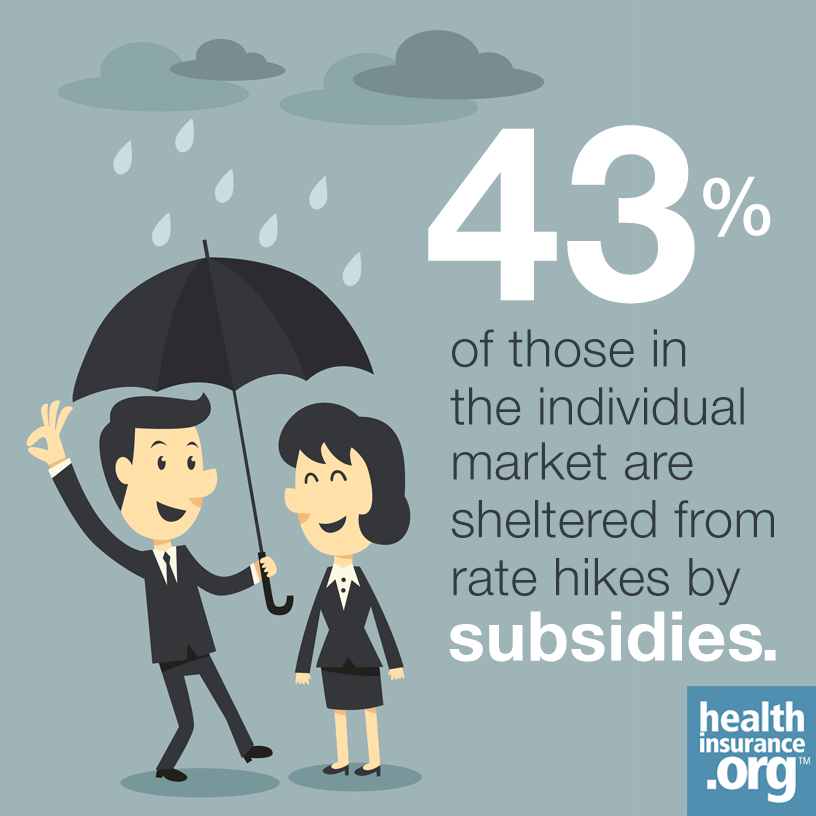 But the fact that 93 out of every 100 Americans are NOT in the individual market is only part of the story. Because despite the rate increases that have dominated the news, the ACA's premium subsidies are still working just as they were intended. As of March 2016, there were 11 million people enrolled in plans through the exchanges nationwide, and 9.4 million of them were receiving subsidies.
For people who are eligible for subsidies in 2017, the subsidies will increase to keep net premiums affordable. And despite the headlines about carriers exiting the exchanges, there will still be exchange plans – and subsidies – available in every county in the U.S in 2017. If your income stays roughly the same, and if you're flexible about the possible need to switch to a different plan in 2017, your subsidy will go up in order to keep the amount you pay similar to what it was in 2016 (here's an explanation of exactly how that works, if you're into number-crunching).
So of the 22 million or so people who had individual market coverage in 2015, almost 43 percent are receiving premium subsidies that protect them from huge rate increases, assuming they're willing to be flexible about what plan they have from one year to the next.
And some additional exchange enrollees will likely be able to claim the subsidies on their tax returns, even though they didn't take the up-front subsidies throughout the year. During the 2016 open enrollment period, in the 38 states that used Healthcare.gov in 2016, 9.6 million people enrolled in coverage. Of those, 8.18 million received subsidies, and 1.44 million did not. But when we look at the income range details that HHS published, it's clear that some of the 1.44 million who aren't receiving subsidies might end up being able to claim the subsidy when they file their tax return.
The magnitude of the rate increases that are coming for 2017 will likely push more people onto subsidy-eligible plans, as higher pre-subsidy premiums mean that more people need subsidies to make their coverage affordable. (The days of people not qualifying for subsidies – even with incomes well under 400 percent of the federal poverty level are probably coming to an end.)
But even if we just consider the current population that's either on-exchange but not receiving subsidies, or off-exchange, we end up with about 4 percent of the U.S. population that's in the cross hairs: covered by individual market plans AND not receiving subsidies to offset the cost of the premiums. (The 22.4 million in the full individual market, minus 9.4 million who are receiving subsidies equals 13 million people, or 4 percent of the total population).
That's not to take away from the seriousness of their situation, but it does help to put it into perspective – the vast majority of Americans are not facing jaw-dropping rate increases in 2017, nor do they need to worry about their health insurer leaving the market.
Who's hit the worst by rate increases?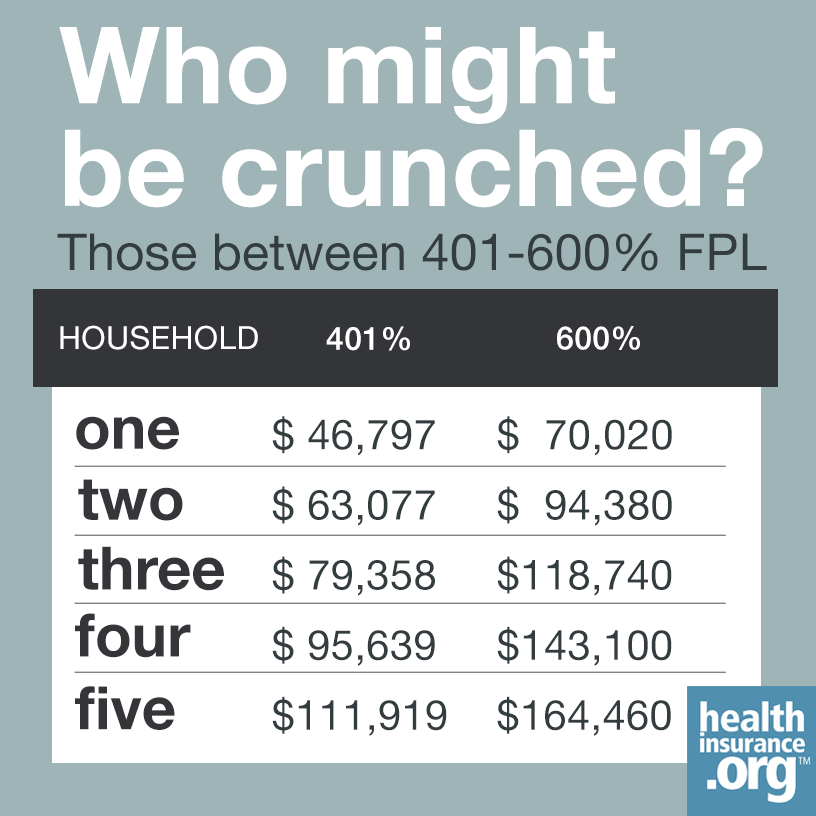 So who are those 4 percent of Americans who are facing alarmingly large rate increases for 2017? They include
exchange enrollees who aren't eligible for subsidies (mostly due to having income above the subsidy-eligible threshold), but also
those who are impacted by the family glitch and those who have managed to purchase full-price coverage despite being in the Medicaid coverage gap that still exists in 18 states), along with
anyone who has an off-exchange ACA-compliant plan, and in some cases, a grandmothered or grandfathered individual market plan.
A couple points to keep in mind when we consider that population:
Some people who aren't eligible for subsidies have incomes at 405 percent of the federal poverty level. Others have incomes ten times that high. A family of four earning $100,000 is certainly less able to afford $2,000 monthly health insurance premiums than a family of four earning $1,000,000. Those who are hardest-hit by rapidly climbing premiums – in terms of the percentage of their income that must be devoted to health insurance premiums – have income roughly in the range of 400 percent to 600 percent of the poverty level, and they're the ones for whom the subsidy cliff can be a very real phenomenon.
HHS estimates that 2.5 million people who currently have individual market coverage outside the exchanges would be eligible for subsidies (and therefore protected from the brunt of the rate hikes) if they switched to on-exchange coverage.
When we take all of that into consideration, it becomes clear that it's a very small segment of the population that has no choice but to shoulder increasingly unaffordable health insurance premiums without much in the way of assistance.
Again, that's not to diminish their experience. People with incomes a little over 400 percent of the poverty level are firmly in the middle class, and spiking premiums will be a burden, especially if they're in places like Arizona, Minnesota, Tennessee, and Illinois, where rate increases are hovering around the 50 percent mark. Or places like Wyoming, Vermont, and Alaska, where despite relatively small rate increases for 2017, rates are already considerably higher than average.
I'm certainly not saying that everything's sunshine and rainbows in the individual market right now – it's not, and numerous carriers have stated that they can only remain in the market long-term if there are reforms put in place to stabilize it.
Many mistakenly believe they have no hope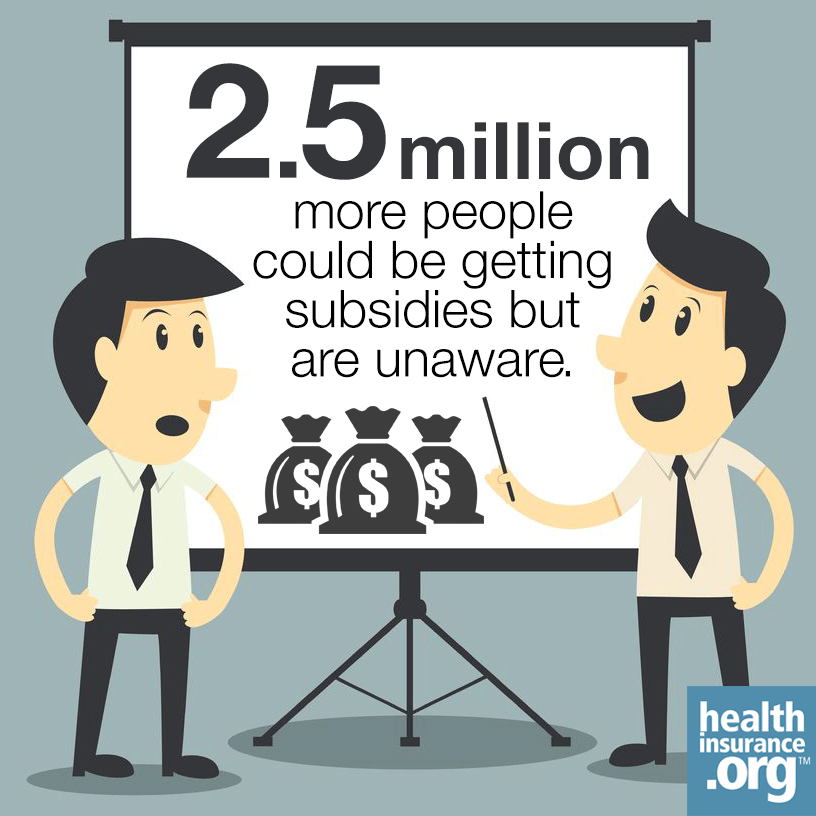 But I am saying that the doom and gloom headlines apply to a very small segment of the population. And even among people who may think the headlines apply to them, there are many for whom that's not the case – like the 2.5 million people who currently have coverage outside the exchanges but who would be eligible for subsidies if they switched to on-exchange plans.
The Commonwealth Fund reported that as of early 2016, only 52 percent of uninsured Americans were aware of the subsidies available through the exchange. That's up from 29 percent in 2013, but it still means that a significant number of uninsured people don't know about the subsidies in the exchange.
And although some current off-exchange enrollees may have opted out of the exchanges with full understanding of the ramifications, it's also very possible that a significant number of those 2.5 million off-exchange enrollees just don't know that they could be paying less for their coverage – and be protected from sharp rate increases – if they switched to a plan offered through the exchange.
---
PART 2: Escaping the crush of premium increases.
---
Louise Norris is an individual health insurance broker who has been writing about health insurance and health reform since 2006. She has written dozens of opinions and educational pieces about the Affordable Care Act for healthinsurance.org. Her state health exchange updates are regularly cited by media who cover health reform and by other health insurance experts.