See your Georgia health insurance coverage options.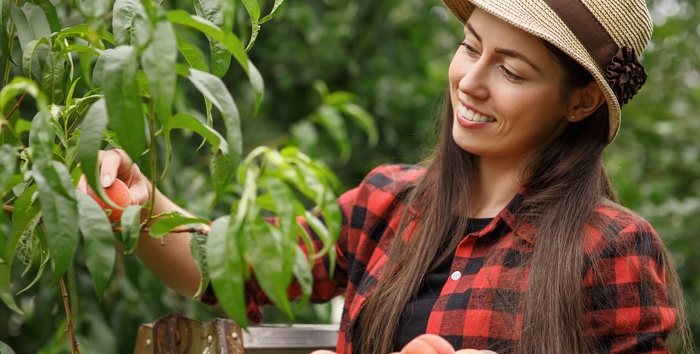 Find individual and family plans, small-group, short-term or Medicare plans through licensed agency partners.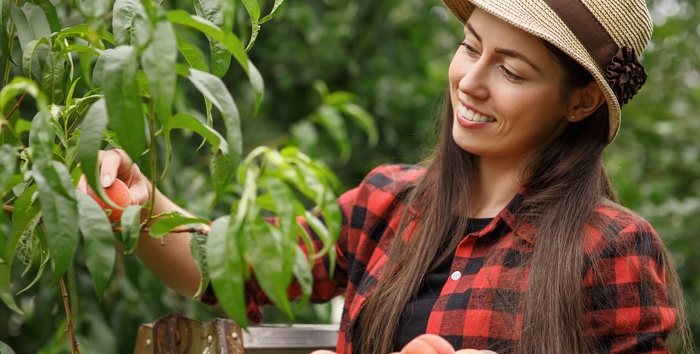 Georgia Health Insurance Consumer Guide
We created this Georgia health insurance guide to help you understand the health insurance options and possible financial assistance available for you and your family. 
An ACA Marketplace (exchange) is a platform where a variety of private health insurers offer health insurance for people who need to buy their own individual or family health coverage. This includes people who don't qualify for Medicare or Medicaid, and also don't have an offer of health insurance from an employer.
Depending on your income and other circumstances, you may be eligible for financial assistance that will reduce your monthly insurance premium (the amount you pay to enroll in the coverage) and possibly your out-of-pocket expenses. These subsidies are currently available in Georgia through HealthCare.gov, which is the federally-run Marketplace. They will be available through Georgia's state-run Marketplace once it debuts in the fall of 2024.
Explore our other comprehensive guides to coverage in Georgia
Frequently asked questions about health insurance in Georgia
Frequently asked questions about health insurance in Georgia
Who can buy Marketplace health insurance?
To enroll in private health coverage through the Marketplace in Georgia, you must:5
Be a resident of Georgia

Be lawfully present in the United States

Not be incarcerated

Not have Medicare coverage 
Those are the only qualifications you need to meet in order to enroll in a Marketplace plan, but qualifying for financial assistance (premium subsidies and cost-sharing reductions) is a little different, and does have some additional parameters. 
Eligibility for Marketplace financial assistance depends on your income and how it compares with the cost of the second-lowest-cost Silver plan in your area. In addition, to qualify for Marketplace financial assistance you must:
Not have access to affordable employer-sponsored health coverage. If your employer offers coverage but you feel it's too expensive, you can use our

Employer Health Plan Affordability Calculator

to see if you might qualify for

premium subsidies

in the Marketplace. 

Not be eligible for Medicaid or PeachCare for Kids (Georgia CHIP).
When can I enroll in an ACA-compliant health plan in Georgia?
You can sign up for an ACA-compliant individual or family health plan in Georgia between November 1 and January 15. This is the annual open enrollment period. 
For coverage to start on January 1, you must make your plan selection by December 15. If you apply between December 16 and January 15, your coverage will take effect on February 1.6 
After the annual open enrollment period ends, your opportunity to enroll or make a plan change will be limited. It's generally only available if you experience a qualifying life event, such as giving birth or losing other health. But some people can enroll year-round even without a specific qualifying life event.7
Enrollment in Georgia Medicaid and PeachCare for Kids (CHIP) is available year-round, so if you're eligible for either of these programs, you can enroll anytime.
How do I enroll in a Marketplace plan in Georgia?
In Georgia, you can sign up for ACA Marketplace coverage through HealthCare.gov. This is the federally run Marketplace platform, and Georgia will continue to use it for coverage effective in 2024. 
But starting in the fall of 2024, for coverage effective in 2025, Georgia will be operating its own fully state-run exchange. Georgia had intended to make this transition in the fall of 2023, but the federal government pushed that out by a year.8
To enroll in an ACA Marketplace plan in Georgia, you can: 
Visit

HealthCare.gov

, which is Georgia's health insurance Marketplace. HealthCare.gov provides an online platform where you can compare the available plans, determine your eligibility for financial assistance, and enroll in the coverage that best meets your needs. (Starting in the fall of 2024, Georgia will no longer use HealthCare.gov and will instead have a state-run Marketplace platform.) 

Purchase individual and family health coverage with the help of an insurance agent or broker, a Navigator or certified application counselor, or an approved enhanced direct enrollment entity.9
You can reach HealthCare.gov's call center by dialing 1-800-318-2596 (TTY: 1-855-889-4325). The call center is available 24 hours a day, seven days a week, but it's closed on holidays.
How can I find affordable health insurance in Georgia?
You may find affordable health insurance options in Georgia by enrolling in a plan through HealthCare.gov – especially if you're eligible for financial assistance. 
Income-based subsidies called Advance Premium Tax Credits (APTC) are available as a result of the Affordable Care Act. APTCs can help lower your premium payments each month, and most enrollees are eligible for these subsidies.
As of 2023, 94% of Marketplace enrollees in Georgia were receiving premium subsidies that saved them an average of nearly $487 /month. After subsidies were applied, the average enrollee's monthly cost was about $66 /month.10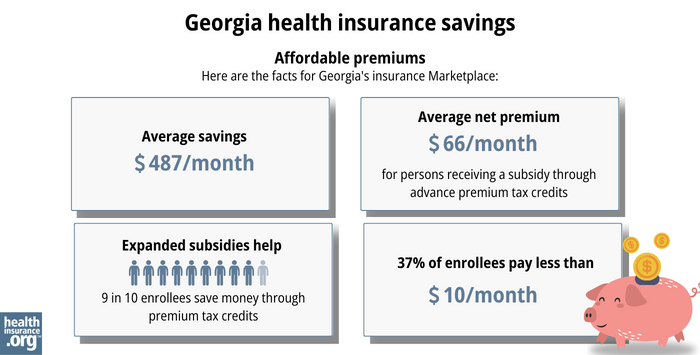 Source: CMS.gov10
If your household income isn't more than 250% of the federal poverty level, you may also qualify for cost-sharing reductions (CSR), which are another type of ACA subsidy. These subsidies can lower your deductibles and out-of-pocket expenses as long as you select a Silver-level plan. Sixty-three percent of Georgia's Marketplace enrollees were receiving CSR benefits as of 2023.11
Depending on your income and circumstances, you may find that you're eligible for free or low cost health coverage through Medicaid or PeachCare for Kids (Georgia CHIP). Learn more about whether you might meet the criteria for Medicaid in Georgia.
How many insurers offer Marketplace coverage in Georgia?
Nine private insurers offer health coverage through the Georgia exchange in 2023, with varying coverage areas. All nine plan to continue to offer coverage in 2024:12 
Alliant
Ambetter from Peach State Health Plan (Centene)
Blue Cross Blue Shield Healthcare Plan of Georgia
Kaiser
Oscar
CareSource
Aetna/CVS 
UnitedHealthcare 
Cigna 
There were eleven insurers in Georgia's exchange in 2022, but Bright Health stopped offering coverage after the end of 2022. Friday Health Plans stopped offering coverage in the spring of 2023 and their existing policies terminated on July 31, 2023.13
Are Marketplace health insurance premiums increasing in Georgia?
For 2024, Georgia's insurers have proposed the following average rate changes:12 
Georgia's ACA Marketplace Plan 2024 Proposed Rate Increases by Insurance Company

Issuer
Percent Increase
Alliant

21.33%

Ambetter from Peach State Health Plan (Centene)

9.34%

Anthem Blue Cross and Blue Shield

19.24%

CareSource

12.31%

Cigna

39.87

%
Aetna

12.54%

Kaiser

11.6%

Oscar

8.01%

UnitedHealthcare

6.35%
Final rates will be available on the federal rate review site before the start of open enrollment. However, ACA Signups acquired updated rates under a FOIA request in late August. By that point, the overall average rate increase had grown from about a 15% increase (based on the initial filings shown above) to about a 17.5% increase. It was unclear whether the rates had been finalized, but they had increased somewhat during the review process by that point.14
Average rate increases are for full-price plans, but 94% of Georgia Marketplace enrollees are receiving premium tax credits that help reduce their monthly payments.15
Subsidy amounts change each year to keep pace with changes in the benchmark plan (the second-lowest-cost Silver plan) in each area. As a result of the American Rescue Plan, the subsidies are larger than they used to be, and available to more people. And this will continue to be the case through 2025, due to the Inflation Reduction Act.
If the cost of your current plan increases, you can explore other plans in the exchange that may be less expensive and offer similar benefits.
How many people are insured through the Georgia Marketplace?
During the open enrollment period for 2023 coverage, 879,084 people enrolled in private plans through the Georgia Marketplace.16
Effectuated enrollment is always lower than the number of people who sign up during open enrollment. As of early 2023, there were 842,201 people with effectuated coverage through the Marketplace in Georgia.15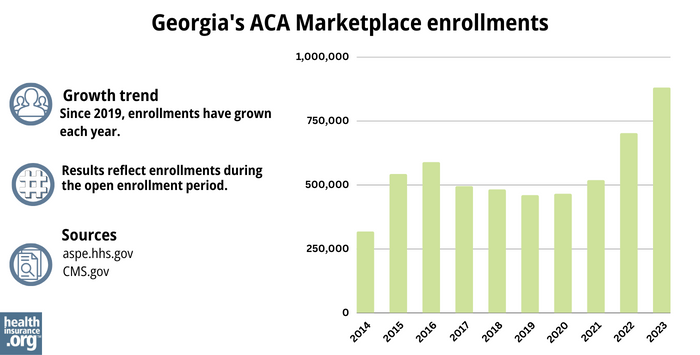 Source: 2014,17 2015,18 2016,19 2017,20 2018,21 2019,22 2020,23 2021,24 2022,25 202316  
What health insurance resources are available to Georgia residents?
HealthCare.gov: The Marketplace in Georgia, where residents can enroll in individual/family health coverage and receive income-based subsidies. You can reach HealthCare.gov at 800-318-2596. (Note that Georgia will no longer use HealthCare.gov as of the 2025 plan year, so when open enrollment begins in November 2024, Georgia residents will be using a new enrollment platform.)
Georgia Department of Community Health (DCH) – Administers Georgia Medicaid and PeachCare for Kids.
Georgia Office of Insurance and Safety Fire Commissioner – Regulates and licenses health insurance products sold in the state, as well as the brokers and agents who sell them.
Georgia's three federally funded Navigator organizations help people enroll in coverage (private health plans or Medicaid) in the exchange:26
Georgia Cares State Health Insurance Assistance Program – A resource for Medicare beneficiaries and their caregivers, providing counseling and assistance with various Medicare issues.
---
Louise Norris is an individual health insurance broker who has been writing about health insurance and health reform since 2006. She has written dozens of opinions and educational pieces about the Affordable Care Act for healthinsurance.org. Her state health exchange updates are regularly cited by media who cover health reform and by other health insurance experts.
Footnotes