See your Iowa health insurance coverage options now.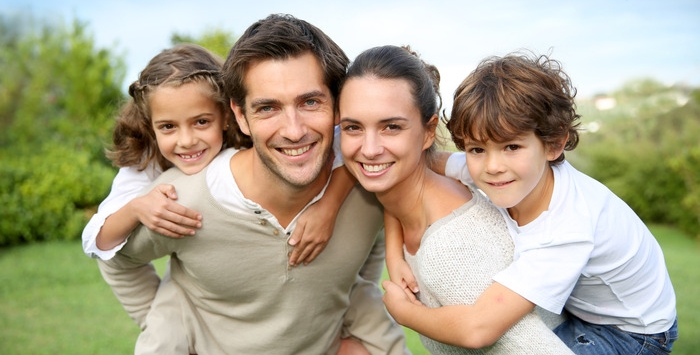 Find affordable individual and family, small-group, short-term, or dental plans through licensed agency partners.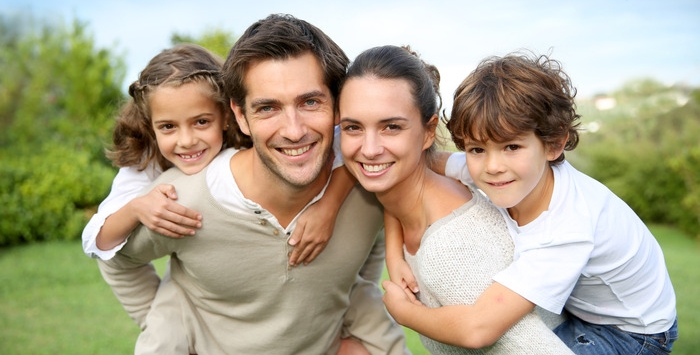 Iowa Health Insurance Consumer Guide
If you're looking for an affordable health insurance plan in Iowa, this state guide can help you better understand your coverage options. For many, an Affordable Care Act (ACA) Marketplace plan, also called Obamacare or an exchange plan, is a cost-effective option.
Iowa runs a partnership exchange with the federal government. Residents use HealthCare.gov to compare plans and enroll in coverage. There are three private insurance companies that offer health plans through Iowa's exchange/Marketplace.1
Explore our other comprehensive guides to coverage in Iowa
Frequently asked questions about health insurance in Iowa
Frequently asked questions about health insurance in Iowa
Who can buy Marketplace health insurance?
Anyone who meets the following criteria can buy Marketplace health coverage in Iowa:

You must live in Iowa

You must be a U.S. citizen, national, or lawfully present

You must not be incarcerated

You must not be enrolled in Medicare



Eligibility for financial assistance (premium subsidies and cost-sharing reductions) is based on your income. Moreover, to qualify for financial assistance with your Marketplace plan, you must:
Not have access to affordable health coverage through an employer. If your employer offers coverage, but you feel it's too expensive, use our

Employer Health Plan Affordability Calculator

to see if you might qualify for premium subsidies in the Marketplace. 

Not qualify for Medicaid or CHIP.

Not be eligible for premium-free Medicare Part A.6
When can I enroll in an ACA-compliant plan in Iowa?
You can sign up for an ACA-compliant individual or family health insurance in Iowa between November 1 and January 15 during open enrollment.7 
Here are some key dates to remember: 
If you enroll by December 15, your coverage starts on January 1. 

If you enroll between December 16 and January 15, your coverage begins on February 1. 
If you miss open enrollment, you may still get coverage through the Marketplace if you have a qualifying life event. Examples of qualifying life events include loss of health coverage, gaining a dependent, or permanent relocation (assuming you already had coverage prior to the move). 
Some people can enroll in ACA Marketplace plans year-round without a specific qualifying event, including:
People who lose Medicaid/CHIP between March 31, 2023 and July 31, 2024 can enroll in a Marketplace plan at any point during that time, and are not limited to the normal 60-day deadline to sign up for new coverage.11
How do I enroll in a Marketplace plan in Iowa?
You can enroll in an Iowa health insurance Marketplace plan by:

Visiting HealthCare.gov

Calling 1-800-318-2596 (TTY: 1-855-889-4325). The call center is available 24 hours a day, seven days a week, but it's closed on holidays.



You can also find local help from local insurance agents, brokers, certified application counselors or an approved enhanced direct enrollment entity.12 They can review options and help you pick a plan to fit your needs. Find local help at localhelp.HealthCare.gov
How can I find affordable health insurance in Iowa?
You can find affordable health plans in Iowa on the ACA Marketplace (HealthCare.gov).
During the 2023 open enrollment period:

Nearly 8 in 10 eligible enrollees qualified for premium subsidies.13
Premium subsidies (called Advance Premium Tax Credits or APTC) saved Iowans about $568/month on average in 2023.13
Those with subsidies paid an average premium of $105 per month.13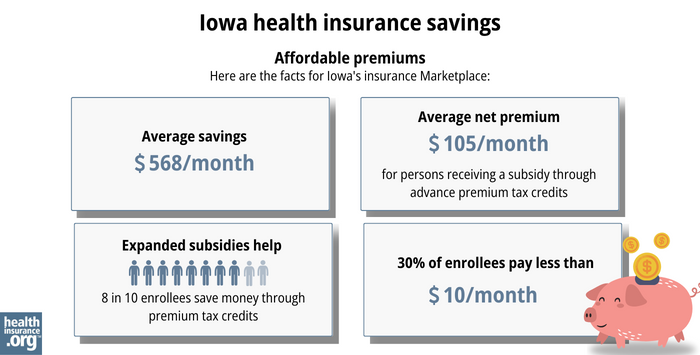 Source: CMS.gov13
In addition to APTC, if your household income isn't more than 250% of the federal poverty level, you may also be eligible for cost-sharing reductions (CSR).14 CSRs help reduce deductibles and out-of-pocket expenses. Note that you must select a Silver-level plan in order to take advantage of CSR benefits.
You may also qualify for affordable Medicaid if eligible. Short-term plans are a low-cost option for people not eligible for Medicaid, Medicare, or subsidies.
As of 2022, there were more than 35,000 people in Iowa who were enrolled in individual grandfathered or grandmothered health plans.15 These plans do not have to comply with various aspects of the ACA and people enrolled in these plans cannot get the financial assistance that's available via the Iowa Health Insurance Marketplace. If you're enrolled in a pre-2014 health plan, it's important to double-check your options in the Iowa Marketplace during open enrollment, to see if a newer plan might provide better coverage and/or lower premiums.
How many insurers offer Marketplace coverage in Iowa?
In Iowa, three companies sell plans through the exchange. Residents in most counties have access to plans from all three insurers, but there are some counties where only two of the insurers offer plans.1
Are Marketplace health insurance premiums increasing in Iowa?
Iowa's individual market insurers have implemented the following average rate changes for 2024,16 amounting to an overall average rate decrease of about 5.5% (before any subsidies are applied):17 
Iowa's ACA Marketplace Plan 2024 Approved Rate Increases by Insurance Company

Issuer
Percent Increase
Medica Insurance Company
3.14%
Oscar Insurance Company
-1.5%
Wellmark Health Plan of Iowa, Inc
-7.38%
Source: Iowa Rate Review Submissions18
Rate changes apply to full-price premiums. Since nearly 90% of eligible people using the Iowa exchange receive premium tax credits, they generally don't pay the full premium amount.19 If you qualify for subsidies, your actual rate change will depend on your plan and the subsidy amounts. Your age can also affect your premium too. 
If the cost of your current plan increases, you can explore other health plans in the exchange that may be more affordable and offer similar benefits.
For perspective, here's a summary of how full-price (unsubsidized) average premiums have changed in Iowa's individual/family health insurance market over the years:
2015: Average increase of 11%.20
2016: Average increase of 22.3%.21
2017: Average increase of 28.8%.22
2018: Average increase of 51%.23
2019: Average decrease of 7.9%.24
2020: Average decrease of 10.8%.25
2021: Average decrease of 0.2%.26
2022: Average increase of 6.6%.27
2023: Average increase of 2.3%.28
How many people are insured through Iowa's Marketplace?
During the open enrollment period for 2023 coverage, a record high for Iowa's exchange was reached, with over 80,000 people signing up for private individual market plans.13
This increase in enrollment is likely due to the American Rescue Plan (ARP). Under the ARP, the ACA's premium subsidies are more significant and widely available.29 These subsidy enhancements have been extended through 2025 by the Inflation Reduction Act.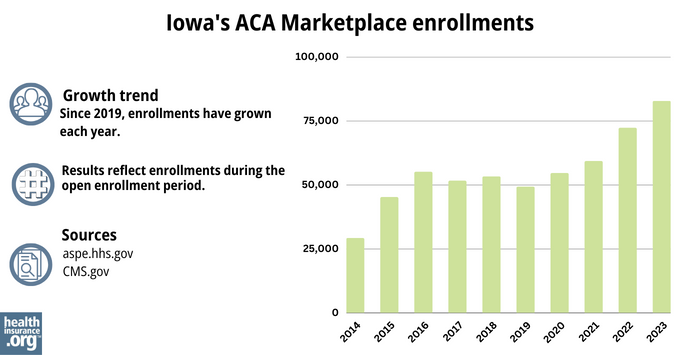 Source: 2014,30 2015,31 2016,32 2017,33 2018,34 2019,35 2020,36 2021,37 2022,38 202329
What health insurance resources are available to Iowa residents?
---
Louise Norris is an individual health insurance broker who has been writing about health insurance and health reform since 2006. She has written dozens of opinions and educational pieces about the Affordable Care Act for healthinsurance.org. Her state health exchange updates are regularly cited by media who cover health reform and by other health insurance experts.
Footnotes