See your Minnesota health insurance coverage options.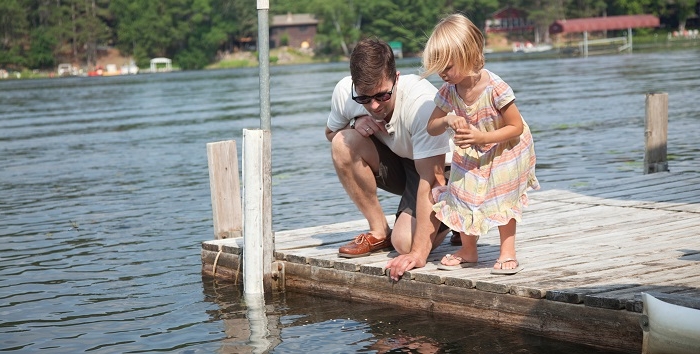 Find individual and family plans, small-group, short-term or Medicare plans through licensed agency partners.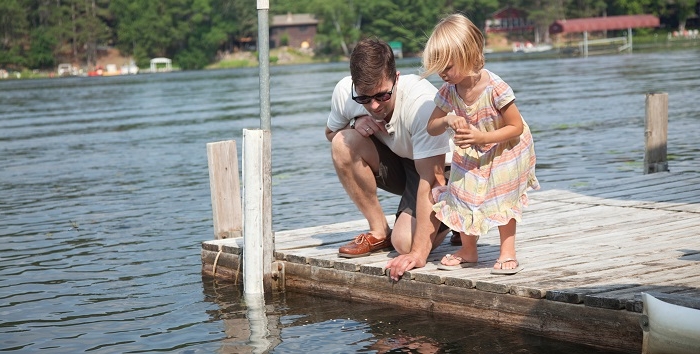 Minnesota Health Insurance Consumer Guide
We've compiled this guide to help you choose the right health insurance plan for you and your family. An ACA Marketplace plan – or Obamacare – is a good option for many people, and we're here to walk you through the choices available.
In Minnesota, you can sign up for ACA Marketplace coverage through MNsure, the state's health insurance exchange. If eligible, you may also get help to lower your monthly insurance cost (premium) and your out-of-pocket expenses through MNsure. 
ACA Marketplace coverage may be a good alternative if you don't qualify for Medicare or don't get health insurance from your job. About 3% of Minnesotans opt to buy their health insurance on the exchange. 1 
People in Minnesota can also sign up for MinnesotaCare – Minnesota's Basic Health Program – through MNsure. 
If you need Medicaid, you can also enroll through MNsure. But for some types of Medicaid (for example, for older adults or people who are disabled), you'll need to go through the state's Medicaid office.
Explore our other comprehensive guides to coverage in Minnesota
Frequently asked questions about health insurance in Minnesota
Frequently asked questions about health insurance in Minnesota
Who can buy Marketplace health insurance?
To qualify for health coverage through the Marketplace in Minnesota, you must:
Be a Minnesota resident

Be either a United States citizen or national, or be lawfully present

Not be incarcerated

Not have Medicare coverage
When can I enroll in an ACA-compliant plan in Minnesota?
How do I enroll in a Marketplace plan in Minnesota?
To enroll in an ACA Marketplace plan in Minnesota, you can: 
Visit

MNsure

– Minnesota's health insurance marketplace. MNsure provides an online platform to shop, compare, and choose the best health plans. 

Purchase individual and family health coverage through

insurance agents

or

brokers

.
You can also call MNsure's contact center by dialing 651-539-2099 (or 855-366-7873 if you're outside the Twin Cities). The contact center operates from 8 a.m. to 4 p.m. from Monday to Friday.
How can I find affordable health insurance in Minnesota?
You may find affordable health insurance options in Minnesota by signing up through MNsure. 
Under the Affordable Care Act, there are income-based subsidies – a type of financial assistance – called Advance Premium Tax Credits (APTC). APTCs can help lower your premium payments and reduce your overall expenses. 
Families eligible in Minnesota will see an average yearly savings of $6,700 on 2024 coverage due to tax credits.5 More than half of eligible enrollees in the state save around $346 per month on their 2023 premium expenses – those who qualified for subsidies usually pay an average monthly net premium of $203.6
If your household income is below 250% of the federal poverty level, you may also qualify for cost-sharing reductions (CSR). These reductions can lower your deductibles and out-of-pocket expenses. Combining APTCs and CSRs might make an ACA plan the most budget-friendly health insurance choice for you. 
You can also find inexpensive health insurance through Medicaid. Check to see if you meet the criteria for Medicaid in Minnesota.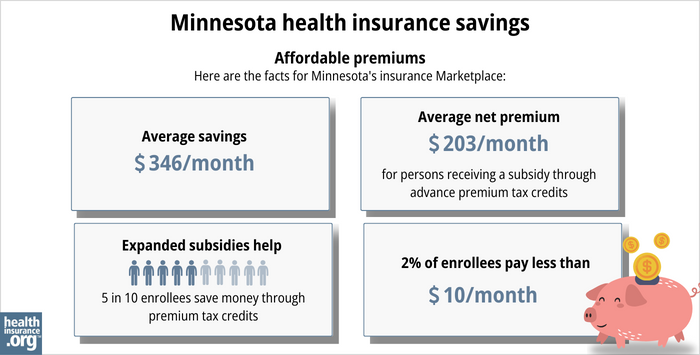 Source: CMS.gov 6
How many insurers offer Marketplace coverage in Minnesota?
For 2023 coverage, there are six insurers that offer exchange plans in Minnesota: 7
Blue Plus

Health Partners, Inc.

Medica Insurance Company

UCare

Quartz
PreferredOne also provides individual and family coverage in Minnesota. However, they sell coverage outside of the exchange, so their plans are unavailable through MNsure.
The availability of plans varies by location. For this year, most counties in Minnesota offer exchange plans from at least three different insurers. 8 In fact, every county in the state has access to plans from a minimum of two insurers, offering at least 24 plan options. 9
Are Marketplace health insurance premiums increasing in Minnesota?
For 2024, MNsure's insurers have proposed the following average rate changes:10
Minnesota's ACA Marketplace Plan 2024 Proposed Rate Increases by Insurance Company

Issuer
Percent Increase
Blue Plus
3.0%
Health Partners, Inc.
8.0%
Medica
2.8%
UCare
5.5%
Quartz
3.2%
Source: Minnesota Commerce Department 11
Keep in mind that these proposed average rate increases are for full-price plans. However, more than half of the people who enroll through MNsure get premium tax credits that help reduce costs.12 
These subsidies are adjusted each year to match changes in the benchmark plan (the second-lowest-cost Silver plan) in each area. And as a result of  the American Rescue Plan and the Inflation Reduction Act, the subsidies are larger and more widely available than they were in the past.
If the cost of your current plan increases, you may find that a different MNsure plan might be a better fit for your needs and budget.
How many people are insured through Minnesota's Marketplace?
During the open enrollment period for 2023 coverage, 118,431 people enrolled in private health coverage through the Minnesota exchange.13 This doesn't include people enrolled in MinnesotaCare and Medical Assistance.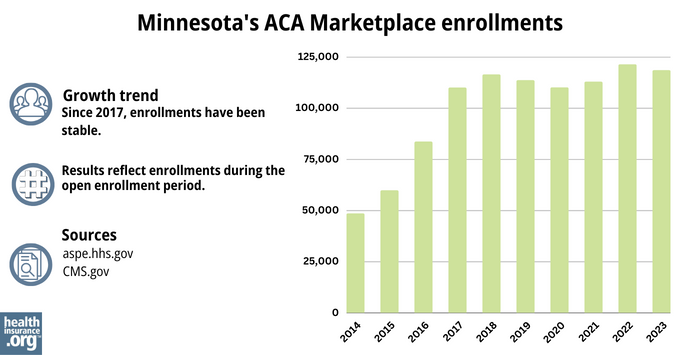 Source: 2014,14 2015, 15 2016,16 2017,17  2018,18 2019,19 2020,20 2021,21 2022,22 202323
What health insurance resources are available to Minnesota residents?
MNsure: Minnesota's health insurance marketplace provides financial help for individual plan premiums exclusively to state residents. To reach MNsure for more information, dial (651) 539-2099 or (855) 366-7873 if outside the Twin Cities.
Minnesota Department of Human Services: The Minnesota Department of Human Services offers health care coverage programs and resources. You can call their customer service at 651-297-3862 or 800-657-3672 for assistance. 
Local tribal or county health care office: To receive assistance with health care programs, you can contact your local tribal or county health care office.
Minnesota State Health Insurance Assistance Program: You can find information and resources for Minnesota's Medicare beneficiaries.
Medical Assistance: Minnesota's Medical Assistance (Medicaid) program helps low-income individuals and families with medical coverage. This program has eligibility requirements, and more information is available on the Minnesota Department of Health website.
---
Louise Norris is an individual health insurance broker who has been writing about health insurance and health reform since 2006. She has written dozens of opinions and educational pieces about the Affordable Care Act for healthinsurance.org. Her state health exchange updates are regularly cited by media who cover health reform and by other health insurance experts.
Footnotes