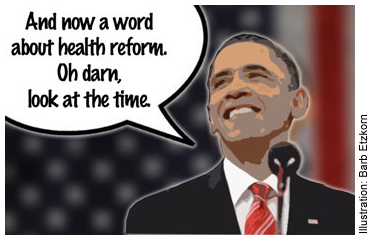 Some will be disappointed that President Obama barely mentioned health care reform in his State of the Union address last night. In a speech that focused on the military, manufacturing, education, and energy, health care received very few mentions.
In fact, it merited a skimpy 44 words in all. But it wasn't until well toward the end that the President said, with some force,
"I will not go back to the days when health insurance companies had unchecked power to cancel your policy, deny your coverage, or charge women differently than men."
This statement was met with strong applause, particularly from Democrats. What was odd was the fact that a cancer survivor was in the gallery with the First Lady, but he was never mentioned by name (Adam Rapp). This, despite the fact that the White House had noted that – had it not been for the ACA – Rapp would have lost his health insurance when he was diagnosed.
A few sentences later, however, the President's base may have grit their teeth when he suggested that he would be open to some reform of entitlement programs.
"As I told the Speaker this summer, I'm prepared to make more reforms that rein in the long-term costs of Medicare and Medicaid, and strengthen Social Security, so long as those programs remain a guarantee of security for seniors."
It is not at all clear what the President has in mind regarding these programs, and his supporters will most likely hold tightly to the phrase "a guarantee of security for seniors," even as his opponents will seize it as an opportunity to try to change these programs in significant ways.
In his response, Gov. Mitch Daniels was blunt about what needed to happen:
"The mortal enemies of Social Security and Medicare are those who, in contempt of the plain arithmetic, continue to mislead Americans that we should change nothing."
In the final moments, the President did get around to mentioning health reform, although not by name when he said,
"I believe what Republican Abraham Lincoln believed: That government should do for people only what they cannot do better by themselves, and no more. That's why my education reform offers more competition, and more control for schools and states. That's why we're getting rid of regulations that don't work. That's why our health care law relies on a reformed private market, not a government program."
Because so much of the health care law has not yet been implemented and support for it is so weak, it may have been politically smart not to emphasize it. In fact, as soon as the speech was over, the Republicans noted the absence of support for health reform and blasted the President for that, promising again to repeal it. And critics noted that even this one sentence was not quite accurate, given the role that Medicaid will play in the new system.
If this speech was supposed to outline the 2012 campaign, those who worked so hard for health reform can well wonder if we are supposed to deep six our support for health reform and start cheering for General Motors instead.
---
Dr. Linda Bergthold has been a health care consultant and researcher for over 25 years. She worked on the Clinton Health Reform plan and was the head of the Obama health care blog team in 2008. She also writes for The Huffington Post on health reform and insurance issues.