Two years ago today, I took these pictures in the East Room of the White House, watching President Obama sign the Patient Protection and Affordable Care Act of 2010, health reform.
I was in the nosebleed section – crammed way in the back, separated from the serious players by a velvet rope.
I was just happy to be there. On the way over, my taxi had gone out of service after hitting a road obstacle. I nearly missed the whole thing.
As I noted that day, this was a highlight of my life. I was also exhausted. I had been working on health reform for 2½ years. I had made hundreds of phone calls, knocked on hundreds of doors, written backstage memos and  e-mail appeals, penned a few hundred columns and blog posts. I had organized several petitions of academic and medical experts supporting health reform. I had spent the 2008 campaign on the campaign trail. I then helped to cover health policy for the New Republic's web site.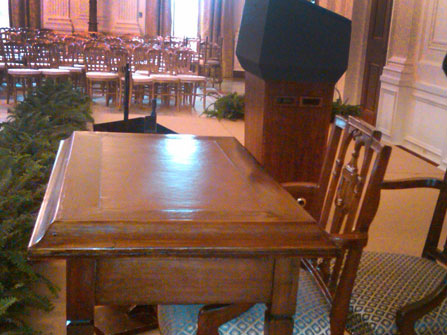 I hold an endowed professorship at the University of Chicago. I've published dozens of academic papers, won seven-figure research grants, been appointed to three expert panels of the National Academy of Sciences. I was only a bit player in health reform, way in the back of the room when the real work was done. I still consider that work the most significant I have ever done.
This work was also gut-wrenching. I met so many people in medical or financial trouble, a family going medically bankrupt as a loved-one waited for a liver transplant, people with multiple sclerosis who couldn't afford their medicine, young people who couldn't afford insurance coverage, people with substance abuse or mental health problems and other chronic illnesses who needed help. During the 2008 campaign, many of us had reached out to people in great difficulty and asked for their votes. Would we actually help them? No one really knew. After all, health reform had failed many times before.
Passing health reform was a brutal political fight. It's been a tough fight since, as well. The final bill certainly wasn't perfect. The main pillars of expanded coverage won't be fully implemented until 2014. Implementation has been a challenge – particularly in the face of implacable Republican opposition in Congress and across the country. Some glitches have emerged. Given the health system's complexity, there will be more. We've got a legal fight headed to the Supreme Court.
I'm still awed by what was accomplished. PPACA will bring health coverage to 30 million people who would otherwise go uninsured. It will provide almost $200 billion per year to help low- and moderate-income Americans who could not otherwise afford health coverage.
In his speech in the East Room, President Obama called health reform "remarkable and improbable." The new law has already expanded coverage to an estimated 2.5 million young adults age 19-25 through their parents' employer-based plans. The new law already bars insurers from turning away children with preexisting conditions. It provides expanded coverage for free preventive services ranging from Pap smears and blood pressure checks to flu vaccines. Annual and lifetime caps on insurance benefits for people with chronic illnesses are being phased out. The new law has brought new transparency and accountability to health insurance, too, requiring insurers to spend the lion's share of consumer premiums on actual care.
In a beautiful speech just before the bill's passage, President Obama spoke to his Congressional supporters. He noted that:
…every once in a while a moment comes where you have a chance to vindicate all those best hopes that you had about yourself, about this country, where you have a chance to make good on those promises that you made in all those town meetings and all those constituency breakfasts and all that traveling through the district, all those people who you looked in the eye and you said, you know what, you're right, the system is not working for you and I'm going to make it a little bit better….
Every single one of you has made that promise, not just to your constituents but to yourself. And this is the time to make true on that promise. We are not bound to win, but we are bound to be true.
Health reform was a promise kept. I am convinced that my great-grandchildren will someday be reading about that East Room ceremony in their history books. Americans of all backgrounds and ideologies will take pride in what was accomplished. I certainly do.
---
Harold Pollack is Helen Ross Professor of Social Service Administration, and Faculty Chair of the Center for Health Administration Studies at the University of Chicago. He has written about health policy for the Washington Post, New York Times, New Republic,  The Huffington Post and many other publications. His essay, "Lessons from an Emergency Room Nightmare," was selected for The Best American Medical Writing, 2009.