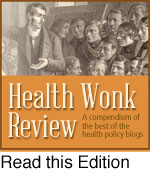 The latest edition of Health Wonk Review is posted over at Health Business Blog and according to host David E. Williams, the hot summer days haven't slowed the production of hard-hitting health policy opinion.
There are 15 posts in the latest edition and not surprisingly, there's always plenty to say about health reform and the battle over implementation. Among the posts: a piece from our own Harold Pollack, who gives Obamacare critics heck for their latest attempt to undermine the law by encouraging young people to "go naked."
There's also some good reading on health insurance market competition, cost containment, and care delivery (including a post that hails Accountable Care Organizations as "the health system design of the future." Good stuff.
Bloggers in this week's edition:
Look for the next edition, hosted by Boston Health News on September 12.