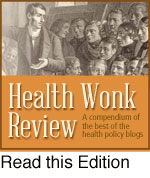 The latest edition of Health Wonk Review went live over at the Health Affairs Blog yesterday.
Host Chris Fleming decided to kick off the New Year with an "Inauguration" theme (because of the Presidential inauguration and because this is the inaugural edition of 2013). Fittingly, the review started with a collection of health policy predictions for 2013 from Health Wonk Review cofounder Joe Paduda.
If you're curious why health care spending is out of control in the U.S., you're in luck: about a third of this week's review focused on "the numbers" … with posts examining why we spend trillions of dollars on health care nationally. (Special thanks for the mention of Maggie Mahar's excellent healthinsurance.org post dissecting health reform critics' alarm over "skyrocketing" premiums.)
Another handful of opinions looked at risky behaviors, nursing workforce projections and Workers' Comp issues. There's a piece looking at ACA COOPs.
This week's Health Wonk Review contributors (in order of appearance in the HWR):
Be sure to come back to this blog on January 31 as healthinsurance.org hosts the next edition of Health Wonk Review.