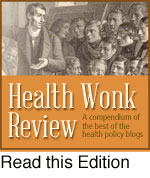 In case you missed it, the most recent edition – the "Baby New Year Edition" of Health Wonk Review is on the virtual stands.
This week, it's over at Wright on Health, and Brad Wright has done a great job of packing it full of great hard-hitting health policy opinion.
Thanks to Brad for providing a hat tip to two of healthinsurance.org's own policy experts: Maggie Mahar, who wrote about health insurance subsidies under the ACA, and Harold Pollack, who laments the loss of ACA's CLASS Act, which was killed by Congress during the fiscal cliff vote.
Watch for the next edition of Health Wonk Review on January 17 over at the Health Affairs Blog.