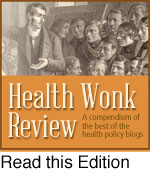 Brad Wright, over at Wright on Health, has one of the most compelling editions … heck probably THE most compelling edition … we've seen posted for Health Wonk Review.
From purely a visual perspective, Brad has OUR vote for Official Health Wonk Review Editor. His format is a eye-catching departure from HWR's sometimes grey presentation of policy excerpts.
Sure. The writers in HWR alway provide compelling posts. (Might we suggest the piece from Maggie Mahar included in this edition?)
But kudos to Mr. Wright for taking a deliciously tongue-in-cheek approach to the finest health policy round-up on the Web.
Wright has definitely raised the bar. Our hope is that future editors will attempt to leap over it.
Anyway, what we're trying to say here is … this week's edition is an excellent read. So DO READ it.