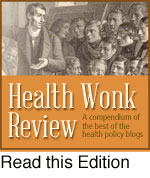 The latest greatest edition of Health Wonk Review is live over at Managed Care Matters and, as host Joe Paduda notes, it's all about health care cost trends, reform implementation.
This edition includes a collection of posts speculating about the likelihood of decreasing health care costs over the next decade.
It also offers several pieces focused on components of reform: its health insurance exchanges, and accountable care organizations. Healthinsurance.org Contributor Wendell Potter reassures readers who may be alarmed over recent headlines ominously predicting that large insurance carriers are wary of the ACA's exchanges.
There's also a section on "motivations and motivators," including a post about breast cancer awareness by this blog's contributor, Maggie Mahar.  Another section lasers in on research, including two perspectives – from John Goodman and Ezra Klein – on the recent highly publicized analysis of Oregon's Medicaid program.
It's good stuff for health policy buffs. Check it out … and then be sure to check back in for the May 24 edition, hosted by Wright on Health. Oh yeah: you can also peruse the HWR archives.