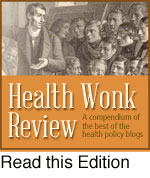 If you haven't yet had a chance to check out the most recent edition of Health Wonk Review, no worries: it's still live over at HealthBeat.
Maggie Mahar, who blogs regularly here, hosted this week's edition, and spared no ink … uh pixels … in reviewing a nice collection of election-related health policy blogs. Her post, The Pre-Election Edition of Health Wonk Review: Fact vs. Fiction, does a great job of breaking down the recent posts into a dozen questions voters might consider before they head to the polls.
A handful of examples:
Special thanks to Maggie for giving a hat tip to posts here at healthinsurance.org that asked two other really great election-ish questions:
Look for HWR's next edition on November 8 at Managed Care Matters.