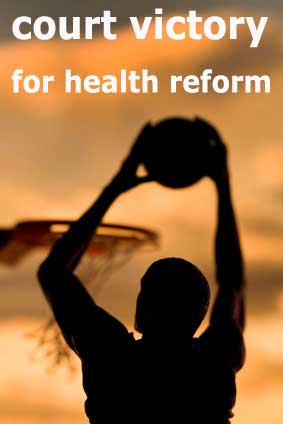 A three-justice panel for the District of Columbia Court of Appeals has handed President Obama and his health care reforms an unexpected and welcome victory.
Conservatives thought this would be a slam-dunk for "their team." They thought, mistakenly, that this conservative-dominated panel would deliver yet another pounding blow to the individual mandate – that provision of the Affordable Care Act that would require all Americans to exercise personal responsibility in purchasing their own health insurance.
Even though the individual mandate is out of favor with the current crop of right-wing politicians, let's remember that it started out as a conservative idea, and even Mitt Romney included one when improving Massachusetts health care as that state's governor.
But, following the law rather than partisan trends, these justices found that while they were not fans of the government regulating the nation's health care, it has the legal right to do so.
That's good news for us consumers, although the fight is long from over – the fate of health care reform lies with the Supreme Court, another body dominated by conservatives who we hope will also follow the law rather than the political winds.
Those of us who have been denied health insurance because of a pre-existing condition, or have had insurance companies drop coverage on a technicality, or have been job-locked because of a fear of losing employer-sponsored insurance, will applaud each step bringing us all closer to health care equity.
Read much more in Rick Unger's piece at Forbes.com.