Welcome to the third installment of my Curbside Consult with Jonathan Cohn, senior editor at The New Republic. He's one of the nation's most widely read and respected reporters covering health policy and I'm happy to talk with him again about what's happening with health reform.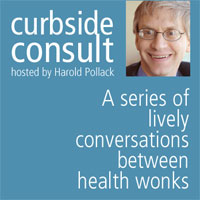 In Part 1 of our interview, Jon and I talked about what's working with the ACA (and what's not) – and also how the law could work better going forward. In Part 2, we talked about some other concerns that have gotten plenty of attention in the media.
In the final segment of our interview, Jon provides a short list of indicators he expects to use in the coming year to determine whether things are going well for the Affordable Care Act. Much attention will be devoted to anecdotes about Americans' experiences enrolling – and then using – their new coverage, but he says we can look to other indicators, from the insurers to consumer polls and even social service agencies.
We also talked about anticipated cancellations of coverage by small business in the coming year. Can the administration do a better job of managing the transition? Will small businesses deal with the cancellations better than individuals?
It's another thought-provoking conversation.
Thanks for joining us!
---
Harold Pollack is the Helen Ross Professor at the School of Social Service Administration. He is also Co-Director of The University of Chicago Crime Lab. He has published widely at the interface between poverty policy and public health. Pollack serves as a Fellow at the MacLean Center for Clinical Ethics at the University of Chicago, and as an Adjunct Fellow at the Century Foundation.