Welcome to another edition of Curbside Consult.
My guest this week is Michael Hiltzik, a columnist with the Los Angeles Times and the author of The New Deal: A Modern History, now out in paperback.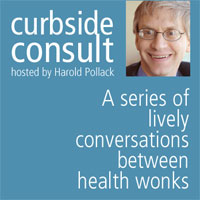 Michael has been doing great work covering the rollout of the Affordable Care Act and we spent a good deal of time in this multi-part interview discussing those efforts.
In Part 4, we discuss the current media narrative about Obamacare … and Michael draws another parallel to Franklin Roosevelt's domestic policy agenda.
He says that skittish Democrats could certainly learn a thing or two from FDR when it comes to defending … and demanding some of the credit for … President Obama's signature domestic policy achievement.
We also talk about how Obamacare is likely to fare in the coming months … and how the media's narrative will change. If the online experience continues to improve, Michael says, "then I think we will look back on this and say, 'Well that was a rough roll-out but we've survived it' … and the story will go away."
I hope you enjoy the conversation.