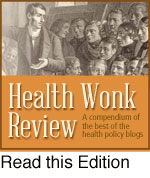 This week's edition edition of Health Wonk Review is live today over at the InsureBlog in what host Henry Stern is calling the Festival of Lights edition. That means its chock full of references to the Festival of Chanukah, which starts this Saturday.
But, being what it is, Health Wonk Review is also chock full of great blog posts – including a handful of them addressing the issue nearest and dearest to our hearts at healthinsurance.org: health reform.
We're, of course, partial to posts by our regulars: Maggie Mahar and Harold Pollack. Maggie looked at Republican efforts to raise Medicare's minimum eligibility age to 67 and explain why it won't bring down health care cost. Harold hosted a Curbside Consult chat with health policy historian and author Paul Starr about where Obama succeeded and Clinton failed on health reform.
If you have a few minutes to put your feet up, we're sure you'll find there's something there for everyone.