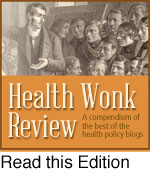 The June 22 edition of Health Wonk Review is posted now at Managed Care Matters, and features columns from healthinsurance.org bloggers Maggie Mahar, Harold Pollack, and Henry J. Aaron.
They discuss the pending Supreme Court decision on the constitutionality of the Affordable Care Act and its individual mandate, the 2012 elections and what both will mean to the health reform law.
Health Wonk Review is a biweekly compendium of the best of the health policy blogs. More than two dozen health policy, infrastructure, insurance, technology, and managed care bloggers participate by contributing their best recent blog postings to a roving digest, with each issue hosted at a different participant's blog.