See your Florida health insurance coverage options.
Find affordable individual and family, small-group, short-term, or dental plans through licensed agency partners.
Florida Health Insurance Consumer Guide
This guide will help you understand the Florida health insurance options available to you and your family. Many people find that an Affordable Care Act (ACA) Marketplace plan – or Obamacare – helps them save money on health insurance expenses.

Florida uses the federally-run Health Insurance Marketplace: HealthCare.gov. Individual and family plans on the ACA exchange in Florida are available for:1
Self-employed people

People who retired early and need coverage until they become eligible for Medicare

People who work for small businesses without health benefits
Numerous private insurance companies offer coverage through the Florida Health Insurance Marketplace, with plan availability varying from one area to another. Florida has by far the nation's highest enrollment in Marketplace plans: A fifth of all Health Insurance Marketplace enrollees nationwide reside in Florida.2
Florida banned surprise balance billing starting in mid-2016, for state-regulated health plans.3 Florida's law was lauded as a model for other states that wanted to implement similar consumer protections. The federal No Surprises Act took effect in 2022, providing nationwide protection from surprise balance bills, including for people with self-insured plans (which aren't regulated by state laws).
Explore our other comprehensive guides to coverage in Florida
Frequently asked questions about health insurance in Florida
Frequently asked questions about health insurance in Florida
Who can buy Marketplace health insurance?
To qualify for Florida Health Insurance Marketplace coverage, you must:1

Live in Florida

Be a U.S. citizen, national, or lawfully present in the U.S.

Not be incarcerated

Not be enrolled in Medicare
But those rules just allow a person to enroll in coverage through the exchange. Eligibility for financial assistance (premium subsidies and/or cost-sharing reductions) through the Health Insurance Marketplace depends on how your household income compares with the cost of the second-lowest-cost Silver plan in your area.
In addition, to qualify for financial assistance with your Marketplace plan you must:
Not be eligible for Medicaid or CHIP (Florida KidCare), or premium-free Medicare Part A.
Not have access to affordable employer-sponsored health coverage. If your employer (or your spouse's employer) offers coverage but you feel it's too expensive, you can use our Employer Health Plan Affordability Calculator to learn whether you might be eligible for premium subsidies in the Florida Marketplace.
When can I enroll in an ACA-compliant plan in Florida?
The open enrollment period to sign up for ACA-compliant individual and family health insurance in Florida runs from November 1 to January 15.6 
Enroll by December 15 for coverage to start January 1.

If you enroll between December 16 and January 15, coverage will begin on February 1.
If you miss open enrollment, you can still enroll or switch plans if you meet the special enrollment period (SEP) requirements. Most SEPs require a qualifying life event like losing coverage, getting married, or permanently moving.
But some SEPs don't require a qualifying life event.7 For example:

People who lose Medicaid or CHIP between March 2023 and July 2024 may qualify for a temporary extended SEP.9
How do I enroll in a Florida health insurance Marketplace plan?
If you sign up for a Florida Health Insurance Marketplace plan, you have several enrollment options:
Online through HealthCare.gov.
By calling the Marketplace Call Center at (800) 318-2596.
With the help of licensed agents, navigators, or certified application counselors or an approved enhanced direct enrollment entity.10
Mailing in a paper application
Go to localhelp.HealthCare.gov to find a navigator, certified application counselor, or agent in your area.
How can I find affordable health insurance in Florida?
You can find affordable individual and family health insurance in Florida through HealthCare.gov, which is Florida's ACA exchange/Marketplace.
During 2023 open enrollment, more than 90% of Florida's Health Insurance Marketplace enrollees qualified for subsidies.11 These subsidies, called Advance Premium Tax Credits (APTC), lower your monthly premiums.
With subsidies, Floridians who enrolled through the Marketplace during the 2023 open enrollment saved about $564 per month on premiums. Those receiving subsidies paid approximately $59 per month in premiums.11
If your household income is between 100% and 250% of the federal poverty level and you select a Silver plan through the Florida Health Insurance Marketplace, you will also receive cost-sharing reductions (CSR).12 62% of Florida's Marketplace enrollees were receiving CSR benefits as of early 2023.13
While APTCs help reduce health insurance costs, CSRs reduce out-of-pocket costs like deductibles, copayments, or coinsurance.
Medicaid and Florida KidCare (CHIP) are options for affordable health insurance in Florida if you qualify for either program. Alternatively, short-term plans also offer low-cost health coverage.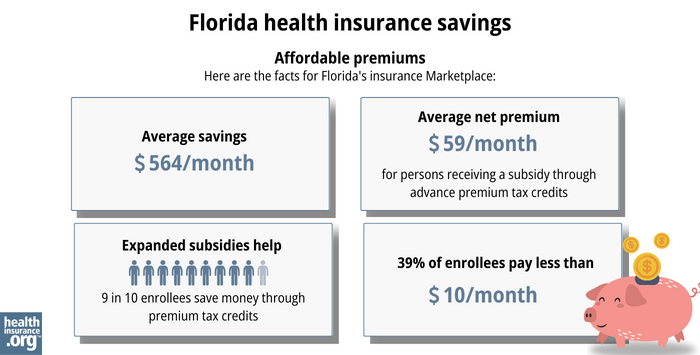 Source: CMS.gov14
How many insurers offer Marketplace health insurance in Florida?
Fourteen insurers are offering plans on Florida's Marketplace for 2023.15 All 14 insurers plan to continue to offer coverage in Florida's exchange for 2024.16
Insurer availability can vary by region. The following insurers provide coverage through Florida's exchange:
Aetna CVS Health / Coventry Health Plan of Florida

AmeriHealth Caritas 

AvMed

Blue Cross Blue Shield of Florida, Inc. (Florida Blue)

Capital Health Plan

Celtic Insurance Company (Ambetter)

Cigna

Florida Health Care Plan, Inc.

Health First Health Plans

Health Options (Florida Blue HMO)

Molina Healthcare of Florida, Inc. 

Oscar Insurance Company of Florida*

Sunshine State Health Plan (also affiliated with Ambetter)

UnitedHealthcare
*Oscar paused new enrollments in Florida for 2023, starting in mid-December 2024. But enrollments resumed in August 2023, and Oscar plans to continue to offer coverage in Florida's Marketplace for 2024.17
Bright Health stopped offering health coverage in Florida at the end of 2022. 
How much is health insurance in Florida and are premiums rising in 2024?
In 2023, the average Florida Health Insurance Marketplace enrollee was paying about $73/month in premiums, after premium subsidies (premium tax credits) were applied.18
Nearly all (97%) of the people enrolled in Florida health insurance coverage through the Marketplace are eligible for subsidies, and the subsidies cover the majority of the cost: Average full-price health insurance premiums are about $623/month in Florida, but the average subsidy is about $565/month.18
The 14 insurance companies offering individual/family plans through Florida's Health Insurance Marketplace have proposed the following average rate increases for 2024:19 
Florida's ACA Marketplace Plan 2024 Proposed Rate Increases by Insurance Company

Issuer
Percent Increase
Aetna CVS Health / Coventry Health Plan of Florida
6.24%
AmeriHealth Caritas
16.07%
AvMed
1.78%
Blue Cross Blue Shield of Florida, Inc.
6.87%
Capital Health Plan
2.61%
Celtic Insurance Company (Ambetter)

2.35%
Cigna
6.48%
Florida Health Care Plan, Inc.
5.84%
Health First Health Plans
1.10%
Health Options (Florida Blue HMO)
4.35%
Molina Healthcare of Florida, Inc.
3.70%
Oscar Insurance Company of Florida
4.19%
Sunshine State Heath Plan
5.07%
UnitedHealthcare
4.54%
Remember that these rate changes are calculated before subsidies are applied. Most Florida exchange enrollees receive subsidies, so they may find coverage more affordable than expected.20
How many people are insured through Florida's Marketplace?
During the 2023 open enrollment, a new record high of 3,225,435 people enrolled in health insurance through Florida's Marketplace.21 This is a significant increase compared to the 2.1 million enrollments from the previous year.
This surge in enrollment was due in part to the American Rescue Plan, which improved affordability starting in 2021. The Inflation Reduction Act then extended these improvements until 2025, ensuring coverage remains more affordable than it was before the ARP became law.22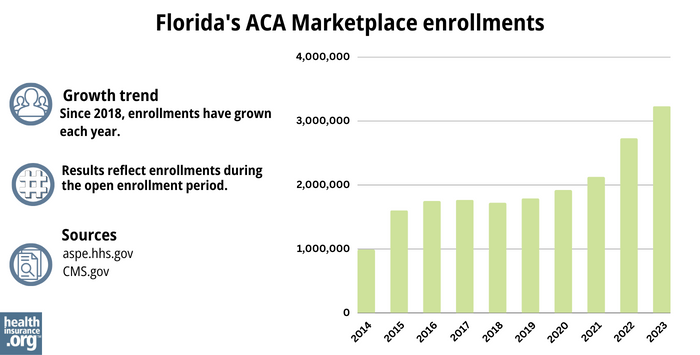 Source: 2014,23 2015,24 2016,25 2017,26 2018,27 2019,28 2020,29 2021,30 2022,31 202332
What health insurance resources are available to Florida residents?
---
Louise Norris is an individual health insurance broker who has been writing about health insurance and health reform since 2006. She has written dozens of opinions and educational pieces about the Affordable Care Act for healthinsurance.org. Her state health exchange updates are regularly cited by media who cover health reform and by other health insurance experts.
Footnotes