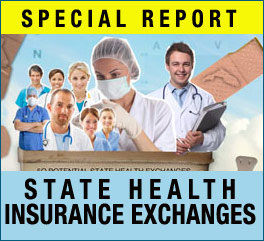 Whether you're happy about it or not, your state is, at this very moment, very likely moving to set up a state health insurance exchange. In fact, it's entirely possible that you have some form of health insurance exchange already in operation.
That's why now – a little over a year before states are required to prove to the federal government that they're making progress to set up a state-operated exchange – we're making state exchange coverage a key focus area. You'll find a link to our special coverage section front and center on the site, and the articles by Contributor Jan Greene are just the beginning.
Within the special section, we're providing brief updates on exchange planning in each state, with links to exchange resources and recent news about a state's progress toward establishing an exchange. And there's plenty to report.
A handful of states have stood firm in their commitment to put the brakes on any state implementation of the ACA's provisions. But for as much as GOP-dominated state legislatures and Republican governors have loudly and clearly opposed the legislation – and in the face of state lawsuits challenging the constitutionality of the law – most states have either passed exchange legislation or set up work groups and committees to pave the way.
For many consumers, it will be enough to simply know whether their state is moving forward – by accepting a federal grant money, by establishing work groups and by enacting exchange legislation. (It may be enough for other readers to know whether their state has filed a lawsuit to challenge the constitutionality of health reform's provisions.)
But what readers shouldn't overlook is that what their state has planned can differ dramatically from other states. Just because a state has a work group or commission in place doesn't mean that consumers can expect a perfect end product.
Commissions across the country are receiving close consumer scrutiny for creating unbalanced boards that host too many insurance industry representatives or two few consumer advocates. And exchanges can be designed to simply be clearinghouses for carriers – or to aggressively put pressure on insurance carriers to lower prices.
Is your state going through the motions? or ensuring that a state exchange will have the funding to continue improving the market for consumers. It's your job as a consumer and constituent to do your homework by researching what your elected officials have planned, and how their specific plans for your state should ultimately save you money while improving your coverage.
The side note on this story, of course, is that some states are standing still and putting up roadblocks to reform. They realize that if they don't take state ownership of exchange planning, federal control is imminent, as Jan points out. That will affect you, too.
Either way, we've built in a section on each state's page so you can easily identify your legislator and make contact to weigh in on your state's progress. We sincerely hope you will make your voice – and your expectations – heard at your state capitol.
And in the meantime, we'll continue to build on this resource and answer questions about the state exchanges and how they'll affect you. Because the exchanges – and big changes – are surely ahead.