The COVID-19 pandemic caused millions of Americans to lose their jobs, and in many cases, that means losing health insurance as well. About half of all Americans get their health insurance from an employer's plan, and it's a cruel irony that so many people lost their jobs in the midst of a time when we need health coverage more than ever.
A Commonwealth Fund analysis found that by June 2020, nearly 15 million Americans had lost their employer-sponsored health insurance. And about 5.4 million of them became uninsured (as opposed to switching to another form of health coverage), resulting in the largest-ever increase in the uninsured rate.
But the good news is that the Biden administration opened a COVID-related enrollment window on HealthCare.gov in early 2021, and all of the states that run their own exchanges followed suit (the rules and deadlines vary a bit from state to state). This window ended in most states on August 15, 2021, but it's still ongoing in several states (details below).
And any time of year, loss of coverage triggers a special enrollment period during which you can buy ACA-compliant individual health insurance. You can buy your new coverage on- or off-exchange, although premium subsidies and cost-sharing reductions are only available through the exchange.
Loss of a job does not, in and of itself, trigger a special enrollment period. The special enrollment period, available any time of year, only applies if you're losing health coverage (the plan you had must have been minimum essential coverage – which all employer-sponsored plans are – and you can't have voluntarily canceled the plan or lost it due to non-payment of premiums).
Regardless of the time of year, a drop in income or change in household circumstances that makes a person newly-eligible for financial assistance in the exchange will also trigger a special enrollment period during which a person can switch plans – but that only applies if they already had minimum essential coverage in place before the income change.
If you're uninsured, whether it's a recent development or a long-term situation, you may still be able to obtain coverage for 2021. Here's a summary of your options:
1. ACA-compliant coverage via COVID-19 special enrollment period
In late January, the Biden administration announced a COVID-related special enrollment period on HealthCare.gov (used in 36 states). It began February 15, 2021, and continued through August 15, 2021.
This window gave uninsured people a chance to enroll in coverage, but it was also an opportunity for people already enrolled in coverage through HealthCare.gov to switch to a different plan if it would better fit their needs. A qualifying event was not necessary in order to use this window; it was essentially just like the annual open enrollment period.
In DC and the 14 states that run their own exchanges, COVID-related special enrollment periods were also offered. Many have ended as of mid-August, but there are several state-run exchanges where enrollment in 2021 plans is still available without a qualifying event, with the following enrollment deadlines:

The American Rescue Plan has made premium subsidies larger and more widely available for 2021 and 2022. Millions of uninsured Americans were already eligible for premium subsidies large enough to fully cover the cost of some of the available marketplace plans, and the number of people eligible for premium-free health plans has increased as a result of the American Rescue Plan (ARP).
It now includes anyone earning up to 150% of the poverty level (who is otherwise eligible for subsidies and not eligible for Medicaid), as well as people who are receiving unemployment compensation in 2021. And in both of those situations, the premium-free plans are silver, as opposed to mostly bronze plans that were premium-free before the ARP. Depending on a person's income and location, there could be a range of premium-free plans at the bronze, silver, and gold levels due to the larger premium subsidies that the ARP creates for 2021 and 2022.

2. ACA-compliant coverage during open enrollment period
Open enrollment for 2022 coverage will begin November 1, 2021, just two-and-a-half months after the COVID-related special enrollment period ended in most states — and in some states, that special enrollment period will overlap with open enrollment.
The enrollment window normally lasts until mid-December in most states, but HHS has proposed a one-month extension. If that's finalized, open enrollment would continue through January 15. That would be applicable for the open enrollment period that starts in the fall of 2021, as well as all future open enrollment periods.
Open enrollment is the time of year when individual/family health insurance can be purchased by nearly anyone. The enrollment window applies both on-exchange and off-exchange, and subsidies are available to eligible applicants who enroll through the exchange. There is no requirement that you have a qualifying event or have maintained prior coverage. And as is always the case with ACA-compliant coverage, your medical history is not a factor when you're enrolling in a new plan or switching from one plan to another.
3. Loss-of-coverage special enrollment period (and other SEPs that might apply to your situation)
Even after the COVID-related special enrollment periods end, you'll still be able to enroll in a health plan if you experience a qualifying event. Our guide to qualifying events and special enrollment periods covers all of the details about how these work, including rules for effective dates and prior coverage requirements.
And if your income has taken a hit, know that if you enroll in a plan through the exchange during a special enrollment period, you may qualify for financial assistance (premium subsidies and cost-sharing subsidies). Use this subsidy calculator to estimate the size of your subsidy.
For most qualifying events, your coverage will take effect either the first of the next month, or the first of the month after that, depending on how late in the month you enroll. Typically, if you enroll during the first 15 days of the month, your coverage will take effect on the first day of the next month. Enroll after the 15th and coverage won't kick in until the first of the following month (these rules will change as of 2022, when effective dates will generally just be the first of the following month).
But the effective date rules are different if your qualifying event is the loss of your existing health coverage. If you're losing your coverage, you can enroll up until the last day you have coverage and your new plan will take effect the first of the following month. Since health plans usually terminate on the last day of a month, this means you can have seamless coverage in most cases, as long as you enroll by the day that your old plan ends, and assuming your old plan is ending on the last day of the month (if your plan is ending on a day other than the last day of the month, it will likely not be possible to have seamless coverage unless you're able to qualify for Medicaid). So for example, if you're getting laid off and your employer-sponsored coverage is going to end on July 31, you have until July 31 to enroll in a new plan (on- or off-exchange) and your coverage will take effect August 1.
It's important to understand that in many cases, you're only eligible for a special enrollment period if you already had some sort of minimum essential coverage in place before the qualifying event – this is obviously true if your qualifying event is loss of coverage, but it's also true for several other qualifying events. You can read more about the rules for each type of qualifying event here.
Native Americans can enroll in plans through the exchange year-round, although the coverage doesn't take effect until the first of the next month or the first of the month after that, depending on the enrollment date. As is the case with special enrollment periods in most states, Native Americans must enroll by the 15th to have coverage effective the first of the next month.

4. Losing your income? Apply for Medicaid.
Federal poverty level calculator
0.0%
of Federal Poverty Level
Millions of Americans have faced a sudden drop in income as a result of the COVID-19 pandemic. But the majority of the states have expanded Medicaid under the Affordable Care Act, which allows residents with low income (up to 138% of the poverty level) to enroll in Medicaid.
Medicaid enrollment is year-round, as is CHIP (Children's Health Insurance Program) enrollment. And CHIP eligibility extends to higher income levels than Medicaid. For both Medicaid and CHIP eligibility, income is calculated on a monthly basis, so they are available if your current income is within the eligible range – even if your income later in the year is expected to be much higher.
Medicaid coverage can also be immediate, or backdated to the first of the month or even a previous month, depending on the state and the circumstances. (States can seek federal approval to eliminate prior month retroactive coverage availability, and some did so under the Trump administration). So you won't have to wait for your Medicaid coverage to take effect.
In states that have not expanded Medicaid, coverage is not available based solely on income; low-income residents have to also meet other criteria, such as being pregnant, caring for minor children, being elderly, or being disabled. But if you're facing a loss of income, you'll want to check with your state's Medicaid program to see if you might be eligible for coverage.
When your income picks back up in the future and makes you ineligible for Medicaid, that will trigger a loss-of-coverage special enrollment period during which you can enroll in a private individual market plan or an employer-sponsored plan if one is available to you.
Note that in order to qualify for the additional federal Medicaid funding that's being provided to states to address the COVID-19 pandemic, states cannot take action to terminate Medicaid coverage until after the COVID-19 emergency ends. Your Medicaid coverage can be terminated if you request it — perhaps because you become eligible for a new employer's plan, or your income increases enough to make you eligible for premium subsidies in the exchange — or if you move out of state. But otherwise, your Medicaid coverage should continue until the end of the COVID-19 emergency period.
5. The short-term fix
If you're not eligible for Medicaid and are waiting for your ACA-compliant coverage to take effect after you complete the enrollment (up to a month, depending on when you apply during the COVID-related enrollment period), buying a short-term medical plan offers the fastest way to get some level of coverage in place. Short-term plans aren't ACA-compliant, but can still provide protection from catastrophic medical expenses – and you can purchase the plans at any time during the year.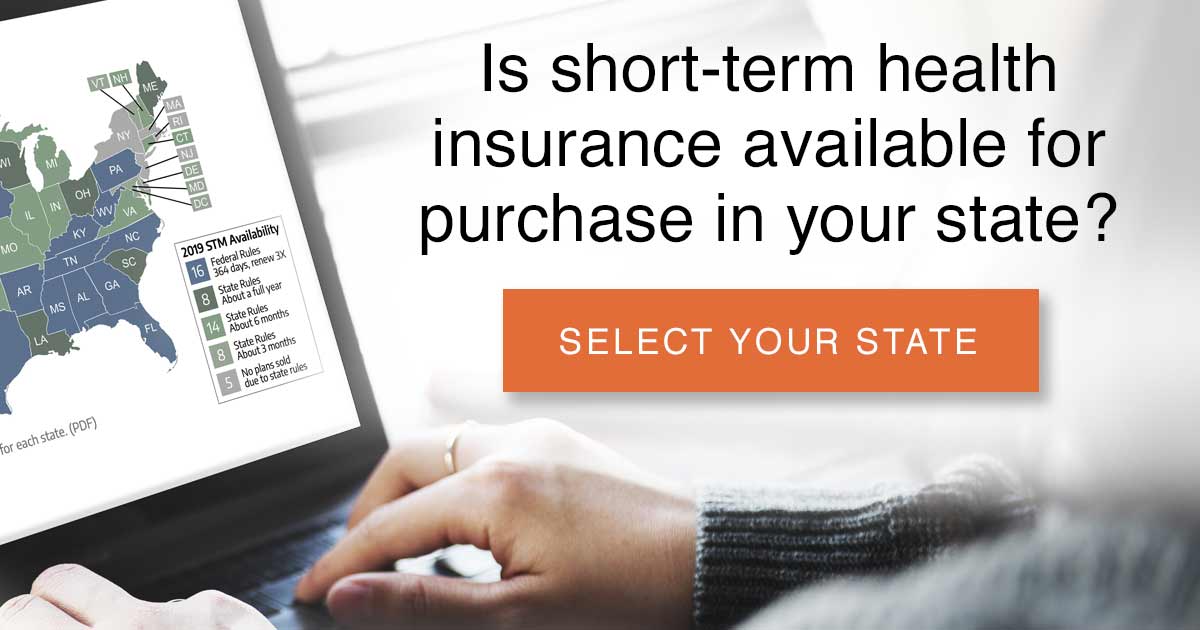 That means you could buy a short-term plan today and have coverage in force as soon as tomorrow.
Short-term coverage is temporary, but federal regulations now allow short-term plans to have initial terms of up to 364 days, and total duration, including renewals, of up to three years. Many states have their own rules, however, that limit short-term plans to shorter durations than the federal rules allow.
Many short-term health plans have voluntarily agreed to waive cost-sharing for COVID-19 testing. But the general rules that the federal government imposed to require insurers to fully pay for COVID-19 testing and COVID-19 vaccines do not apply to short-term plans, so their actions on this are voluntary rather than mandated (unless a state takes action to further regulate short-term plans).
And although many ACA-compliant health plans agreed to temporarily waive cost-sharing for COVID-19 treatment (as opposed to just testing, as required by law) in 2020, and in some cases, even into 2021, very few short-term plans agreed to take this step.
And the basic rules of thumb for short-term plans still apply: Pre-existing conditions are generally not covered at all, and insurers will tend to look back at your medical records if and when you have a claim, to make sure that the claim isn't related to any condition you might have had before enrolling (this is a type of underwriting known as post-claims underwriting, and it's particularly common with short-term plans).
Short-term plans are also not required to cover the ACA's essential health benefits, which means that some of the treatment you might need for COVID-19 (or other conditions) might not be covered at all by the plan. Many short-term plans do not, for example, cover outpatient prescription drugs. Others place limits on how much they'll pay for inpatient hospital care.
6. NY, MN, MA, and CT residents with fairly low income can enroll year-round
New York and Minnesota have Basic Health Programs (the Essential Plan and MinnesotaCare), both of which offer year-round enrollment and are available to residents with income up to 200 percent of the poverty level.
Massachusetts has a program called ConnectorCare, which is available to residents with income up to 300% of the poverty level. ConnectorCare enrollment is available year-round, but only for people who are newly eligible or who haven't enrolled previously.
Connecticut has debuted a new program called Covered Connecticut, which offers free coverage and free medical care to families with dependent children and household income between 160% and 175% of the poverty level. Enrollment in this program continues through the end of 2021.
If you're in one of these states and have an eligible income, you may still be able to sign up for coverage regardless of what time of year it is.
---
Louise Norris is an individual health insurance broker who has been writing about health insurance and health reform since 2006. She has written dozens of opinions and educational pieces about the Affordable Care Act for healthinsurance.org. Her state health exchange updates are regularly cited by media who cover health reform and by other health insurance experts.