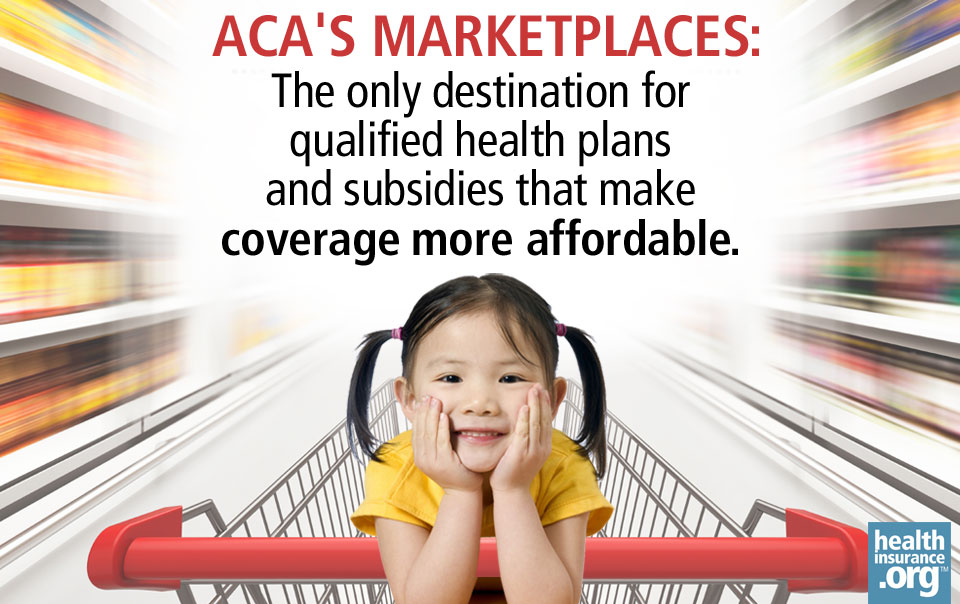 The ACA's health insurance marketplaces will be open soon, and millions of uninsured and under-insured Americans are expected to enroll in qualified marketplace health policies during open enrollment, which will run from October 1, 2013 to March 31, 2014.
There has been extensive misinformation surrounding the enrollment process, available policies, and how much they will cost. Please keep several things in mind if you want to enroll in an ACA-qualified individual health plan:
A marketplace by any other name
For the last few years, most media sources referred to exchanges as the place where people could enroll in coverage and get income-based tax credits, if eligible. Several months ago, the Department of Health and Human Services (HHS) replaced the term "exchange" with "marketplace."
States are mostly following suit. But most non-government media and the general public continue to refer to them as exchanges. So, if you're looking for an "exchange plan," and find yourself on a web site that is the state's official "marketplace" for health insurance (or the other way around), you're in the right place.
Buyer beware
Each state only has one official marketplace for individual health insurance, run by either the state or HHS. There will undoubtedly be scammers and unscrupulous agents who try to take advantage of the confusion surrounding the open enrollment process.
Additionally, there could be some confusion stemming from the fact that some insurance companies like Aetna or Blue Cross and consulting firms like Aon Hewitt will be operating private exchanges for their corporate customers. These "exchanges" are not required to conform to the same rules as those plans on the official state or HHS marketplaces.
Tax credits through ACA exchanges only
Discounts are only available through the official marketplace, not private exchanges. While you will still be able to purchase individual health insurance outside the marketplace, discounts in the form of premium tax credits and other cost-sharing reductions are only available for policies purchased within the official marketplace.
You can either contact your state's exchange directly, or you can work with a trusted navigator or broker who is certified by your state's marketplace to help you with the enrollment process. If you're submitting an application anywhere other than the official marketplace for your state, you are buying a non-marketplace policy and no discounts will be available.
Guaranteed coverage
All individual policies will be guaranteed issue, meaning you cannot be turned down. Health status and pre-existing conditions will not be a factor in eligibility or premiums.
Qualified health plans vs. 'catastrophic'
To be sold in the marketplace, health plans must be certified. These plans are known as Qualified Health Plans. Marketplace plans will be categorized as Platinum, Gold, Silver, or Bronze, depending on the average percentage of costs they cover before you reach your maximum out of pocket costs.
In addition, catastrophic plans will be available for people under age 30 which will satisfy the requirement to have insurance. However, enrollees in these plans will not qualify for premium tax credits or cost-sharing reductions. A "metal" plan may be a better deal if you qualify for a tax credit.
Plans for varying percentages of costs
The "metal plans" will pay for roughly the following percentage of covered costs before you reach the maximum out-of-pocket limit. (Plan design will vary, so read the details on the policies you're considering to see how they compare.)
Platinum: 90 percent
Gold: 80 percent
Silver: 70 percent
Bronze: 60 percent
Limits on out-of-pocket costs
All policies have an out-of-pocket maximum starting in 2014 ($6,350 for an individual, and $12,700 for a family). States can have lower limits on the Platinum plans if they wish (California, for example, has a $4,000 cap on maximum out of pocket costs for a Platinum plan). But even a catastrophic plan or a Bronze plan cannot have out-of-pocket maximums in excess of $6,350 for an individual or $12,700 for a family.
Premium discounts
Premium tax credits are available to people who: (1) do not have access to employer-sponsored health insurance that is deemed affordable and adequate ("meets minimum value"); and (2) who have household incomes up to 400 percent of Federal Poverty Level (FPL).
These tax credits will be calculated by the marketplace and can be applied to any of the "metal" plans. They can be paid directly to the insurance carrier so that the amount you have to pay each month is reduced. The detailn/as will be reported to you and the IRS at tax time.
Look for the Silver lining
In addition to premium tax credits, cost-sharing reductions are available for incomes up to 250 percent of FPL. These discounts lower the amount you have to pay out-of-pocket for deductibles, coinsurance, and copayments, and are only available on Silver plans.
Don't sweat the glitches
Although the marketplaces are scheduled to open October 1, there may be short delays in some states. This will likely have no significant impact, however, as the earliest possible effective dates for marketplace policies will be January 1, 2014.